View Full Site
Kim Cattrall Bio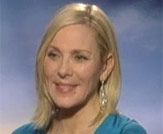 KIM CATTRALL
Date of Birth: August 21, 1956
Born in Liverpool, England, as an infant, Kim Cattrall moved to Canada with her parents, Dennis and Shane. She returned to England to study at the prestigious London Academy of Music and Dramatic Art when she was 11.
Later, upon graduating high school in Vancouver, she was awarded a scholarship to study at the American Academy of Dramatic Arts in New York. She was only 16 at the time. Before graduating from the Academy in 1975, she was cast in Otto Preminger's Rosebud.
She began to play serious stage roles in Vancouver, Toronto and L.A., where she won critical acclaim for her work in Agnes of God and The Three Sisters. After a repertory run in Toronto, she was awarded a film contract with Universal Studios.
In 1982, she married Andreas Lyson, the German-born architect she met in L.A. The marriage ended in divorce only five years later. But while her marriage was falling apart, her screen career was blooming, with popular films that made her famous as a comedienne: Mannequin, Porky's and Police Academy.
After a ten year dry spell with bomb after bomb in both film and television, Cattrall hit big again playing the sexually driven Samantha Jones in the HBO hit series, Sex and the City. Since the show ended, she has concentrated on her film career, with roles in films such as Ice Princess (2005), but returned to the role as Samantha in the extremely popular big screen version: Sex and the City: The Movie (2008) and its sequel, Sex and the City 2 (2010).
Cattrall lives in London with her cat, Kobi.
<< back