View Full Site
Leslie Bibb Bio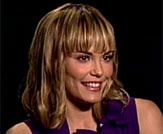 LESLIE BIBB
Date of Birth: November 17, 1974
A child of North Dakota, Leslie Bibb was the youngest of three sisters and was raised in a single family home after the death of her father when she was three. Raised in rural Nelson County, Virginia, her family later relocated to Richmond, Virginia where Bibb excelled at St. Gertrude's, an all-girls school.
In 1990, Bibb, a 16-year-old brunette with a southern accent, won a model search on The Oprah Winfrey Show. As a result she modeled in Europe and Japan, began to appear on magazine covers, and started acting in commercials and soap operas, all while continuing her education.
She attended the University of Virginia, but decided to take a leave from the University and pursue her career in New York. She continued to model while in New York, but it was her acting that kept her there. After completing a prestigious three-year drama program in New York and traveling through Europe for six months, she set off for Los Angeles.
She started her film career in the television series The Big Easy (1996), before taking the plung into film where she played an NBC tour guide in the biopic Private Parts (1997). Bibb starred in the WB television series Popular and began the year 2000 with two features—The Skulls, starring Joshua Jackson, and the indie film The Young Unknowns.
She's gone on to star in numerous big budget features and blockbusters, including Talladega Nights: The Ballad of Ricky Bobby (2006), Iron Man (2008), Confessions of a Shopaholic (2009) and Iron Man 2 (2010). In 2010 she won Best Actress at the Boston Film Festival for her work in the indie film Miss Nobody.
Following a brief marriage that lasted just over a year, Bibb is now divorced and resides in Los Angeles with her dog Jack, whom she rescued from a shelter while living in New York City, and her other dog, Harley. A voracious reader, she also enjoys biking, hiking and scouring flea markets for antiques.
<< back