View Full Site
Liev Schreiber Bio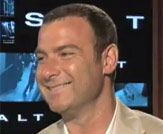 LIEV SCHREIBER
Date of Birth: October 4, 1967
Liev Schreiber has made a name for himself in both leading roles in independent films and character parts in mainstream features. Born in San Francisco, Schreiber was raised on New York's Lower East Side. Although he initially wanted to become a writer, he decided to try his hand at acting, training at London's prestigious Royal Academy of Dramatic Arts and the Yale School of Drama.
Schreiber's first acting job was on Broadway, where he appeared in In The Summer House. More theater work followed, and in 1994 the actor made his film debut in the Steve Martin comedy Mixed Nuts. The film was a flop, although Schreiber's role as a rather muscular transvestite proved to be one of the picture's few memorable features.
His next project, the 1995 indie Denise Calls Up, fared a little better; despite almost non-existent box office, it was rewarded with critical approval. Following more minor film work, Schreiber landed the role of a British bouncer in the successful indie flick Party Girl (1995), which also starred indie queen Parker Posey. Schreiber got an introduction to a more mainstream audience thanks to his role as killer Cotton Weary in Wes Craven's mega-hit Scream, a role he reprised in the film's sequel, Scream 2 (1997). The same year, Schreiber had leading roles in two more independent films, The Daytrippers (which again paired him with Posey) and Walking and Talking, as well as a secondary role in the Mel Gibson thriller Ransom.
Deftly straddling the divide between Sundance and the Studio, Schreiber went on make three major mainstream pictures in 1998: Phantoms with Rose McGowan and Ben Affleck; Twilight with Susan Sarandon, Paul Newman, and Gene Hackman; and Sphere with Samuel L. Jackson, Sharon Stone and Dustin Hoffman. The following year, Schreiber returned to more familiar territory with his role in Tony Goldwyn's small but successful drama A Walk on the Moon. As the man Diane Lane cuckolds for Viggo Mortensen, Schreiber mined endless possibilities from what could have been a narrow role, giving his character the sort of charming, good-intentioned inadequacy that has become one of the actor's trademarks. In 1999, Schreiber appeared in Jakob the Liar opposite Robin Williams, as well as Norman Jewison's The Hurricane. He played a supporting role in Kate & Leopold (2001) opposite Meg Ryan and Hugh Jackman and was in The Sum of All Fears (2002) starring Morgan Freeman and Ben Affleck. In The Manchurian Candidate (2004), he played a supporting role opposite Denzel Washington. He graduated to a lead role in The Omen (2006), playing a father who realizes his son is the devil incarnate. In 2012, he began work on the crime drama series Ray Donovan, for which he has earned two Emmy nods and four Golden Globe nominations, the latest in 2017. He then starred in Lee Daniels' The Butler (2013) alongside Forest Whitaker and Oprah Winfrey.
His latest projects include Pawn Sacrifice (2015), the 2016 Best Picture Oscar winner Spotlight (2015), the sci-fi action film The 5th Wave (2016) with Chloë Grace Moretz, the boxing movie The Bleeder (2016) with Naomi Watts and Ron Perlman, and the sport comedy Goon: Last of the Enforcers (2017) with Elisha Cuthbert and T.J. Miller.
Schreiber made his directorial debut with Everything is Illuminated (2005), starring Elijah Wood. He has two sons with actress Naomi Watts.
Filmography (actor):
Goon: Last of the Enforcers (2017)
The Bleeder (2016)
The 5th Wave (2016)
Pawn Sacrifice (2015)
Spotlight (2015)
Lee Daniels' The Butler (2013)
Movie 43 (2013)
The Reluctant Fundamentalist (2013)
Goon (2012)
Repo Men (2010)
Salt (2010)
Every Day (2010)
Repo Men (2010)
Taking Woodstock (2009)
X-Men Origins: Wolverine (2009)
Defiance (2008)
Love in the Time of Cholera (2007)
The Ten (2007)
The Painted Veil (2006)
The Omen (2006)
The Manchurian Candidate (2004)
Spinning Boris (2003)
The Sum of All Fears (2002)
Kate & Leopold (2001)
Dial 9 for Love (2001)
Pay It Forward (2000)
Hamlet (2000)
Scream 3 (2000)
Spring Foward (1999)
The Hurricane (1999)
Jakob the Liar (1999)
A Walk on the Moon (1999)
Desert Blue (1998) (voice)
Twilight (1998)
Sphere (1998)
Phantoms (1998)
Scream 2 (1997)
His and Hers (1997)
Scream (1996)
Ransom (1996)
Walking and Talking (1996)
Big Night (1996)
Baggage (1996)
The Daytrippers (1996)
Party Girl (1995)
Mad Love (1995)
Denise Calls Up (1995)
Mixed Nuts (1994)
Filmography (director):
Everything is Illuminated (2005)
<< back