View Full Site
Lisa Kudrow Bio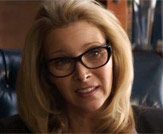 LISA KUDROW
Date of Birth: July 30, 1963
"Life is a lot easier when you're dumb," says this graduate of Vassar College. After finishing her degree in biology, Lisa Kudrow planned on doing research with her father, a world-renowned headache specialist. But an audition for the famed Los Angeles improvisational group, The Groundlings, led to her becoming a regular member of the troupe.
Nominated for an Emmy, Golden Globe, SAG and American Comedy Awards for her work in Friends and Mad About You, Lisa says, "People are watching really carefully. But I think I'm funny."
More recently, Lisa has been concentrating on her film work, especially since Friends ended in 2004. Since then, she's appeared in major motion pictures such as Bandslam (2009), Easy A (2010), Neighbors (2014), the Emily Blunt drama The Girl on the Train (2016), the Anna Kendrick comedy Table 19 (2017), and the animated comedy The Boss Baby (2017) with Alec Baldwin.
She has also created her own TV series for Showtime Network, Web Therapy, in which she also stars as a therapist who helps people via internet sessions. The show has had guest stars such as her former Friends co-stars Matt LeBlanc, David Schwimmer and Courteney Cox, but also a bevy of A-List stars such as Meryl Streep and Steve Carell.
Filmography:
The Boss Baby (2017)
Table 19 (2017)
The Girl on the Train (2016)
Neighbors (2014)
Easy A (2010)
Love & Other Impossible Pursuits (2009)
Bandslam (2009)
Paper Man (2009)
Hotel for Dogs (2009)
Powder Blue (2009)
P.S. I Love You (2007)
Kabluey (2007)
Happy Endings (2005)
Wonderland (2003)
Marci X (2003)
Analyze That (2002)
Bark (2002)
All Over the Guy (2001)
Dr. Dolittle 2 (2001) (voice)
Lucky Numbers (2000)
Hanging up (2000)
Analyze This (1999)
The Opposite of Sex (1998)
Romy and Michele's High School Reunion (1997)
Clockwatchers (1997)
Hacks (1997)
Mother (1996)
The Crazysitter (1995)
<< back