View Full Site
Mads Mikkelsen Bio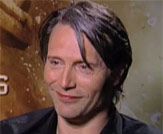 MADS MIKKELSEN
Date of Birth: November 22, 1965
Born in Copenhagen, Mads Mikkelsen was a child gymnast, then worked as a professional dancer before studying acting at the Arhus Theatre School. He made his film debut as a junkie/pusher in the Danish film Pusher (1996), but it was the TV series Rejseholdet/Unit 1 (2000 to 2004) that brought him overnight fame.
In 2004 Mikkelsen made his Hollywood debut opposite Clive Owen and Keira Knightley in King Arthur. He won several Best Actor awards when he reprised his role in Pusher II (2004), the sequel to his movie debut. In the Bond movie Casino Royale, Mikkelsen played Le Chiffre, an international banker and money launderer for terrorist organizations. He continues to work in both American and Danish films, including playing Igor Stravinsky in the independent film Chanel Coco & Igor Stravinsky (2010) and Draco in the major motion picture Clash of the Titans (2010). His other films include The Three Musketeers (2011), A Royal Affair (2012) and The Hunt (2013). More recently, he starred in The Salvation (2015), Marvel's Doctor Strange (2016), and the blockbuster fantasy prequel Rogue One: A Star Wars Story (2016).
Mikkelsen has two children with his wife, Hanne Jacobsen.
Filmography:
Rogue One: A Star Wars Story (2016)
Marvel's Doctor Strange (2016)
The Salvation (2015)
Age of Uprising: The Legend of Michael Kohlhaas (2014)
Charlie Countryman (2013)
The Hunt (2013)
A Royal Affair (2012)
The Three Musketeers (2011)
Clash of the Titans (2010)
Die Tur (2009)
Coco Chanel & Igor Stravinsky (2010)
Valhalla Rising (2009)
Flame & Citron (2009)
Casino Royale (2006)
Exit (2006)
Prag/Prague (2006)
Efter brylluppet/After the Wedding (2006)
Adams æbler (2005)
De grønne slagtere/The Green Butchers (2003)
Pusher II (2004)
King Arthur (2004)
Wilbur Wants to Kill Himself (2004)
Torremolinos 73 (2003)
Nu/Now (2003)
Dykkerdrengen/The Boy Below (2003)
I Am Dina (2003)
Elsker dig for evigt/Open Hearts (2002)
En kort en lang/Shake It (2001)
Monas verden (2001)
Blinkende lygter/Flickering Lights (2000)
Bleeder (1999)
Tom Merritt (1999)
Nattens engel/Angel of the Night (1998)
Vild spor/Wildside (1998)
Pusher (1996)
<< back