View Full Site
Malcolm McDowell Bio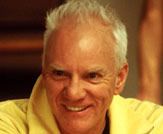 MALCOLM MCDOWELL
Date of Birth: June 13, 1943
Birth Name: Malcolm Taylor
Born in Leeds, England, Malcolm McDowell had a private school education at Cannock, but didn't attend college even though he was accepted to a Sussex university. McDowell began his acting career in repertory, appearing with the Royal Shakespeare Company for two years. His theater work includes the Royal Court's 1975 production of Entertaining Mr. Sloane, which later moved to London's West End. In the United States, he was seen on the New York stage in Look Back in Anger and In Celebration, and in Los Angeles in Hunting Cockroaches at the Mark Taper Forum.
Before acting, he first worked as a waiter in his father's pub in Liverpool and then moved on to become a coffee salesman before working as a messenger.
On television, McDowell co-starred with Laurence Olivier and Alan Bates in Harold Pinter's The Collection, and had the title role in CBS' Arthur the King.
In 1967, McDowell landed his first film, Poor Cow. Before McDowell's scene was cut, it had attracted the attention of director Lindsay Anderson, who cast the 25-year-old actor as a prep-school rebel in If... (1968). Director Stanley Kubrick was likewise impressed by McDowell's ability to project working-class insolence; Kubrick starred the actor as futuristic street gang leader Alex in the controversial A Clockwork Orange (1971). While Alex dished out plenty of violence and brutality, he got back as good as he gave in the scenes wherein he was "cured" of his aggressiveness; at one point, poor McDowell spent several shooting days bound in a straitjacket, his eyes pried open by surgical clamps. Since then McDowell has had a phobia about using eyedrops.
McDowell has been able to shed his earlier punkish image in favor of sensitive, introspective roles, such as that of H. G. Wells in Time After Time(1979) and Maxfield Perkins in Cross Creek (1983).
McDowell kept himself busy in the '80s and '90s in both film and television. He made a cameo appearance as himself in The Player and was seen in Star Trek: Generations (1994), Tank Girl (1995), Richard Benjamin's Milk Money and Morgan Freeman's Bopha. In 1998, he accepted the role as Mr. Roarke in the TV series Fantasy Island. He continues to work steadily, in projects such as I Spy (2002), Hidalgo (2004) and Easy A (2010). He has since appeared in over 20 films, including The Artist (2011)Vamps (2012), Free Fall (2014), and Kids vs Monsters (2015).
The veteran actor can more recently be seen in the comedy Grow House (2016), the horror thriller 31 (2016), the comedy Walk of Fame (2016).
McDowell has had a fistful of marriages. In 1975, he married actress Margot Bennett. Five years later, he was divorced and married another actress, Mary Steenburgen. From this second marriage, he fathered two children: Lily Amanda and Charles Malcolm. This marriage would last 10 years, and in 1991 he married again, this time to Kelley Kuhr, with whom he has three children.
Filmography:
Butterfly Love (2018)
Corbin Nash (2018)
Experiment 77 (2018)
Culture of Fear (2017)
Wizardream (2017)
Abnormal Attraction (2016)
Death Race 2050 (2016)
The Mystery of Casa Matusita (2016)
Dreams I Never Had (2016)
American Satan (2016)
Mississippi Murder (2016)
Yamasong: March of the Hollows (2016)
Walk of Fame (2016)
31 (2016)
Grow House (2016)
Kids vs Monsters (2015)
Lady Psycho Killer (2015)
Free Fall (2014)
Shock Value (2014)
Zombex (2013)
A Green Story (2012)
Antiviral (2012)
Excision (2012)
Suing the Devil (2011)
The Unleashed (2011)
The Artist (2011)
Pound of Flesh (2010)
Easy A (2010)
Monster Butler (2010)
Barry Munday (2008)
Delgo (2008) (voice)
Bolt (2008) (voice)
Halloween (2007)
Exitz (2007)
The List (2007)
Bye Bye Benjamin (2006)
Cut Off (2006)
Zerkalnie voyni: Otrazhenie pervoye (2005)
Dinotopia: Quest for the Ruby Sunstone (2005) (voice)
Rag Tale (2005)
In Good Company (2004) (uncredited)
Pinocchio 3000 (2004) (voice)
Tempesta (2004)
I'll Sleep When I'm Dead (2004)
Bobby Jones, Stroke of Genius (2004)
Hidalgo (2004)
The Company (2003)
Tempo (2003)
I Spy (2002)
Inhabited (2002)
Between Strangers (2002)
The Barber (2001)
The Chemical Wedding (2001)
Dorian (2001)
The Void (2001)
Just Visiting (2001)
Island of the Dead (2000)
Gangster No. 1 (2000)
Y2K (1999)
My Life So Far (1999)
Love Lies Bleeding (1999)
Southern Cross (1999)
Beings (1998)
The First 9 1/2 Weeks (1998)
The Gardener (1998)
Nazis: The Occult Conspiracy (1998)
Mr. Magoo (1997)
Hugo Pool (1997)
2103: The Deadly Wake (1997)
Asylum (1996/I)
Ringer (1996)
Where Truth Lies (1996)
Yesterday's Target (1996)
Tank Girl (1995)
Cyborg 3: The Recycler (1995)
Fist of the North Star (1995/I)
Kids of the Round Table (1995)
Sharks of the Red Triangle (1995)
Star Trek: Generations (1994)
Dangerous Indiscretion (1994)
Exquisite Tenderness (1994)
Fatal Pursuit (1994)
In the Eye of the Snake (1994)
Milk Money (1994)
Vent d'est (1993)
Bopha! (1993)
Night Train to Venice (1993)
Player, The (1992)
Chain of Desire (1992)
Tsareubijtsa (1991)
Moon 44 (1990)
Class of 1999 (1990)
Disturbed (1990)
Happily Ever After (1990) (voice)
Jezebel's Kiss (1990)
Maggio musicale (1990)
Schweitzer (1990)
Buy & Cell (1989)
The Caller (1989)
Maestro, Il (1989)
Mortacci (1989)
Sunset (1988)
Tin Soldiers (1984)
Blue Thunder (1983)
Cross Creek (1983)
Flip Out (1983)
Britannia Hospital (1982)
Cat People (1982)
Caligula (1980)
Look Back in Anger (1980)
Time After Time (1979)
The Passage (1979)
Tigers Are Better Looking (1979)
Hardcore (1977)
Aces High (1976)
Voyage of the Damned (1976)
Royal Flash (1975)
O Lucky Man! (1973)
A Clockwork Orange (1971)
Long Ago Tomorrow (1971)
Figures in a Landscape (1970)
If.... (1968)

<< back