View Full Site
Margo Martindale Bio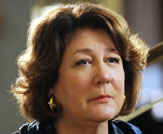 MARGO MARTINDALE
Date of Birth: July 18, 1951
For many actresses, the age of 60 isn't a time when parts in projects are plentiful. But for Margo Martindale, 60 proved to be a golden age as she won her first Emmy for playing Mags Bennett in the series Justified, and various offers began piling up.
Margo, known now as a brilliant, scene-stealing character actor, was born in Jacksonville, Texas to parents Margaret and William Martindale. She was the third child to the couple, and their only daughter.
She attended Lon Marris College in her hometown of Jacksonville, but later transferred to the University of Michigan. She dove into acting at Harvard, where she did a summer study and got her first professional job in the industry at the Loeb Drama Theater. It was during her time at Harvard when Margo discovered that acting — and specifically acting on camera — was what she wanted to do with her life.
After appearing in small parts in the 1987 TV movie Once Again and the 1988 TV movie The Child Saver with Alfre Woodard, Margo landed her first film role. She won a minor role in the Oscar-nominated, Tom Cruise and Nicole Kidman-led Days of Thunder in 1990. She followed that up with work in several Oscar-recognized films over the next six years.
Margo took on small roles in the drama Lorenzo's Oil (1992) with Susan Sarandon and Nick Nolte (it would be her first of four projects with Sarandon); Sydney Pollack's The Firm (1993), working again with Tom Cruise; Nobody's Fool (1994) with Paul Newman and Bruce Willis; the dramedy Sabrina (1995) with Harrison Ford; Dead Man Walking (1995), for which Sarandon won a Best Actress Oscar; Marvin's Room (1996) with Meryl Streep, Diane Keaton and Leonardo DiCaprio (Margo and Meryl would work together three more times); and Ghosts from the Past (1996) with Alec Baldwin, James Woods and Whoopi Goldberg.
In 1997, Margo went back TV for the movie ...First Do No Harm, which reunited her with Meryl Streep. The project earned a Golden Globe nomination. Her next TV movie came with Earthly Possessions (1999), a comedy that again had her working with Susan Sarandon.
Her credits in other '90s films included Sidney Lumet's comedy Critical Care (1997) with James Spader, Kyra Sedgwick and Helen Mirren; the crime drama Twilight (1998) with Paul Newman, Gene Hackman and Susan Sarandon; the witchy dramedy Practical Magic (1998) with Sandra Bullock, Nicole Kidman, Stockard Channing and Dianne Wiest; and the civil war drama Ride with the Devil (1999), which starred Tobey Maguire and was directed by Ang Lee.
In 2000, Margo joined forces with Sandra Bullock again in the comedy 28 Days and acted alongside Russell Crowe and Meg Ryan in the action drama Proof of Life.
She earned a part in the four-time Emmy-nominated TV movie The Laramie Project in 2002, which chronicled the tragic murder of Matthew Shepard, and also acted in 15 episodes of the Emmy-nominated series 100 Centre Street between 2001 and 2002.
Margo and Nicole Kidman lit up the screen together in two films in the early 2000s. They both appeared in The Hours (2002), which won Nicole her Best Actress Oscar and also reunited Margo and Meryl Streep, and the thriller The Human Stain (2003), which is based on a Philip Roth novel.
With Iron Jawed Angels, Margo co-starred alongside several prolific actresses. The 2004 TV movie about the women's suffrage movement was headlined by Hilary Swank and Anjelica Huston, and won a Golden Globe and earned five Emmy nominations. Margo played Harriot Blatch in the film.
The next year, Margo and Hilary recreated their onscreen magic in the four-time Oscar-winning film Million Dollar Baby (2004). Margo played Hilary's selfish mother Earline Fitzgerald in the film, which followed one woman's journey to become a professional boxer. Clint Eastwood directed the film and also co-starred in it. In addition to its Oscar wins, it snagged two Golden Globes.
Margo was intensely busy in 2007, appearing in a whopping seven films. She won parts in the Laura Linney and Philip Seymour Hoffman dramedy The Savages, which was nominated for two Oscars and one Golden Globe; the Anna Kendrick comedy Rocket Science; the Paul Walker and Laurence Fishburne action thriller The Death and Life of Bobby Z; the indie drama Rails and Ties with Kevin Bacon and Marcia Gay Harden; the romance ensemble Feast of Love with Selma Blair, Greg Kinnear and Morgan Freeman; and the Golden Globe-nominated musical comedy Walk Hard: The Dewey Cox Story, with John C. Reilly and written by Judd Apatow.
Also in 2007, Margo began work on the Golden Globe-nominated series The Riches. She played Nina Burns in all 20 episodes of the short-lived program, which she told Vulture was "ahead of its time" and "deliciously clever."
Two years later, she appeared in The Winning Season, Hannah Montana: The Movie and the thriller Orphan. She also started work on the series Mercy, which co-starred Taylor Schilling and Michelle Trachtenberg. She acted in 11 episodes between 2009 and 2010.
In 2010, Margo took the role of Miss Ham in Seabiscuit, which starred Diane Lane and profiled a horse that set an unprecedented record for winning the Triple Crown in 1973.
For her efforts as Mags Bennett in Justified, Margo won an Emmy and a Critics Choice Television Award in 2011 for Outstanding Supporting Actress in a Drama Series.
In the same year, she also acted in all 16 episodes of A Gifted Man, the drama series that starred Patrick Wilson and Jennifer Ehle. She stayed in TV in 2012 and 2013, taking guest roles in Suits, Person of Interest, Smash and New Girl.
Margo took a role in the 2013 film Beautiful Creatures, which starred Alden Ehrenreich, Jeremy Irons, Viola Davis, Emmy Rossum and Emma Thompson. It was nominated for six Teen Choice Awards. She also played Mattie Fae Aiken in the Oscar-nominated drama August: Osage County with longtime acting pal Meryl Streep and Julia Roberts.
The year 2013 is when she began portraying Carol Miller on the Emmy-nominated series The Millers. It was a central part she'd play for 34 episodes between 2013 and 2015. Margo also started work as Claudia on the FX drama The Americans. Her recurring role has earned her two Emmy Awards for Outstanding Guest Actress in a Drama Series.
Between 2015 and 2016, Margo stepped into the shoes of Ruth Eastman in over a dozen episodes of The Good Wife. It was a part that won her a Critics Choice Television Award for Best Guest Actor/Actress in a Drama Series in 2016.
Also in 2016, Margo appeared in minor roles in the Melissa McCarthy comedy The Boss and the Garry Marshall-directed Mother's Day with Kate Hudson, Julia Roberts and Jennifer Aniston.
Most recently, Margo took to the screen in the lead role of Sally Hollar in the John Krasinski-directed ensemble The Hollars. The film also starred John, Anna Kendrick and Richard Jenkins. Her latest credits include the comedy Wilson (2017) with Woody Harrelson, Laura Dern and Judy Greer, and the animated flick Cars 3 (2017).
Margo, who has one child with her husband, musician William Boals, lives in New York City's Upper West Side. Although she doesn't like the color pink, she only wears pink underwear after Justified costumer Patia Prouty told her it was her lucky color.
Filmography:
Cars 3 (2017)
Wilson (2017)
The Hollars (2016)
Mother's Day (2016)
The Boss (2016)
Sophie and the Rising Sun (2016)
Heaven is for Real (2014)
August: Osage County (2013)
Blurbird (2013)
Beautiful Creatures (2013)
Win Win (2011)
Main Street (2010)
Seabiscuit (2010)
Orphan (2009)
Hannah Montana: The Movie (2009)
The Winning Season (2009)
Management (2008)
Walk Hard: The Dewey Cox Story (2007)
Feast of Love (2007)
Rails & Ties (2007)
The Death and Life of Bobby Z (2007)
Rocket Science (2007)
The Savages (2007)
Paris, je t'aime (2006)
Wedding Daze (2006)
Million Dollar Baby (2004)
The Best Thief in the World (2004)
The Human Stain (2003)
It's All About Love (2003)
The Hours (2002)
Proof of Life (2000)
28 Days (2000)
Ride with the Devil (1999)
Practical Magic (1998)
Twilight (1998)
Critical Care (1997)
Ghosts of Mississippi (1996)
Marvin's Room (1996)
Dead Man Walking (1995)
Sabrina (1995)
Nobody's Fool (1994)
The Firm (1993)
Lorenzo's Oil (1992)
The Rocketeer (1991)
Days of Thunder (1990)
<< back