View Full Site
Matt Damon Bio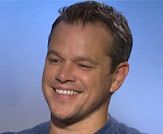 MATT DAMON
Date of Birth: October 8, 1970
From just another pretty boy beefcake with one of those mega-watt smiles that Hollywood is famous for, to the cover of Vanity Fair magazine and an Academy Award. It all happened pretty fast for this native of Cambridge, Massachusetts.
A few short years ago, no one except his family and friends knew of Matt Damon. Then, in 1996, Francis Ford Coppola plucked Damon out of obscurity when he cast him to star in his adaptation of John Grisham's bestselling novel The Rainmaker. Suddenly the old cliché "when it rains, it pours" came true as offers began showering down on Damon.
Steven Spielberg came calling with an offer for Matt to star alongside Tom Hanks in Saving Private Ryan, and Miramax grabbed a little script he'd written with long-time pal Ben Affleck called Good Will Hunting. With Gus Van Sant directing and Robin Williams as Damon's co-star, the film went on to win screenwriting Oscars for Damon and Affleck and a Best Supporting Actor award for Williams.
And now, Matt says, "Fame, huh? Are you kidding? I'm knocking on wood so hard my knuckles are bleeding. I can't believe any of this."
But believe it he should—even if it all seems too good to be true. It's the dream he always wanted ever since he and Affleck were living down the street from each other in Cambridge.
Matt began pursuing his dream at an early age, working as an extra in films in the Boston area. At 16, he asked his parents if he could head to New York to audition for a casting agency and was given the green light as long as he paid his own way. He did and got a few gigs out of the agency.
Two years later, he was accepted into Harvard University (after having grabbed one line of dialogue in his first feature—Mystic Pizza) and hung around just long enough to come up 12 credits shy of an English degree. The lure of Hollywood was just too strong to keep Damon in school, especially after he'd been cast in the Boston-area production Rising Son with Brian Dennehy and School Ties along with Affleck and other young Hollywood actors Chris O'Donnell and Brendan Fraser.
So Matt packed up the car and moved to Beverly ... Hills, that is. Just months after arriving on the left Coast he was cast in the western Geronimo: An American Legend, alongside Gene Hackman and Robert Duvall. From there he moved on to The Good Old Boys where he co-starred with fellow Harvard man Tommy Lee Jones, who also directed and co-scripted the movie.
His next role would springboard him into stardom—Courage Under Fire with Meg Ryan and Denzel Washington. He lost 40 pounds to prepare for that role, subsisting on a diet of chicken, egg whites, steamed broccoli, and plain baked potatoes.
But the preparation paid off as Matt got great press out of the part and came to the attention of Coppola and his Rainmaker project. News that Matt had won the leading role helped make him an A-List property and certainly didn't hurt the progress of Good Will Hunting, which had been written years before, but was in nowhere land because Damon and Affleck insisted on starring in the film and no studio was buying. The film shifted into full steam ahead when Matt got his Rainmaker part.
Rumored to have been dating his Rainmaker leading lady, Claire Danes, during that shoot, Damon's love interest switched to his Good Will Hunting co-star Minnie Driver. Days before he received his Academy Award for best screenplay, he dumped Driver and started dating Winona Ryder. However, that relationship ended early in 2000.
After not having a screenplay produced since Good Will Hunting, Matt co-wrote the indie flick Gerry with Ben Affleck's younger brother Casey. The two writers also starred in the film, about two men lost in the desert, but the film was largely ignore by movie audiences.
He went on to star in the Hollywood blockbuster The Bourne Identity (2002) as Jason Bourne and then reprised his role in The Bourne Supremacy (2004).
Matt received his second Academy Award acting nomination in 2010 for his supporting role in Invictus (2009). He has continued to appear in a long list of films including 2011's Contagion, We Bought a Zoo and The Adjustment Bureau. He also starred in and co-wrote the screenplay for the 2013 drama Promised Land. He appeared in Elysium (2013) and in The Monuments Men (2014) alongside George Clooney. For his starring role in The Martian (2015), Matt won his first acting Golden Globe award and earned him his first Oscar nomination in the Best Actor category.
The A-lister's most recent credits include returning to the role of Jason Bourne in the long-awaited sequel Jason Bourne (2016) and headlining the action fantasy film The Great Wall (2017).
Matt married Luciana Barroso on December 9, 2005 at New York City Hall. They have two daughters— Isabella (b. 2006) and Gia (b. 2008).
Filmography:
Downsizing (2017)
Suburbicon (2017)
The Great Wall (2017)
Boston (2017)
Jason Bourne (2016)
The Martian (2015)
Interstellar (2014)
The Monuments Men (2014)
Behind the Candelabra (2013)
Elysium (2013)
Promised Land (2013)
We Bought a Zoo (2011)
Happy Feet Two (2011) (voice)
Margaret (2011)
Contagion (2011)
The Adjustment Bureau (2011)
True Grit (2010)
Hereafter (2010)
Green Zone (2010)
Invictus (2009)
The Informant! (2009)
Che: Part Two (2008)
The Bourne Ultimatum (2007)
Ocean's Thirteen (2007)
The Good Shepherd (2006)
The Departed (2006)
Syriana (2005)
The Brothers Grimm (2005)
Ocean's Twelve (2004)
The Bourne Supremacy (2004)
Jersey Girl (2004)
Euro Trip (2004)
Stuck on You (2003)
The Bourne Identity (2002)
Confessions of a Dangerous Mind (2002)
Spirit: Stallion of the Cimarron (2002) (voice)
Gerry (2002)
The Majestic (2001) (voice)
Ocean's Eleven (2001)
All the Pretty Horses (2000)
Finding Forrester (2000)
The Legend of Bagger Vance (2000)
Titan A.E. (2000) (voice)
The Talented Mr. Ripley (1999)
Dogma (1999)
Rounders (1998)
Saving Private Ryan (1998)
Good Will Hunting (1997)
The Rainmaker (1997)
Chasing Amy (1997)
Courage Under Fire (1996)
Glory Daze (1995)
Geronimo: An American Legend (1993)
School Ties (1992)
Field of Dreams (1989)
Mystic Pizza (1988)
<< back