View Full Site
Matt Dillon Bio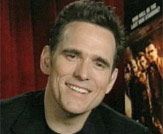 MATT DILLON
Date of Birth: February 18, 1964
Matt Dillon is one of that rare breed of actors who managed to make the leap from teen idol to mature actor without having to spend years in Hollywood purgatory waiting for some Quentin Tarantino-type to rediscover him.
Perhaps one of the reasons Dillon seemed to make the transition so effortlessly was because, as he says, "I never bought into any of that heartthrob business. I didn't like it, and it was not what I was about. I was kind of never comfortable with it. And I felt a real gulf between myself and the public."
"Discovered" in the halls of Hommocks Junior High when he caught the eye of talent scouts on the lookout for "realistic types" with no previous acting experience, Dillon ended up with his first feature film experience in Over the Edge (1979).
A year later he caught the eye of the teen set when he played Kristy McNichol's love interest in the coming-of-age drama Little Darlings (1980). Since then, Dillon has kept busy in Hollywood and turned in some fine performances along the way, such as the loving husband who trusts his wife (Nicole Kidman) a little too implicitly in To Die For (1995) and as the vacant Hollywood star who "outs" his teacher (Kevin Kline) in In & Out (1997).
However, he says, "I feel like I've always been adjusting to niches people try to put me in. Like they want to find out where I fit. Like I was a teenager, then I was in the transition to an adult, now I'm going into something else. I have to get through that. I always keep reminding myself who I am, and who I want to be. It's difficult. I can be impatient when somebody wants me to be somebody else."
The New Rochelle, New York native once dated Cameron Diaz and the two starred together in There's Something About Mary (1998). For his participation in that film, Dillon won an MTV Movie Award for Best Villain and a Blockbuster Entertainment Award for Favorite Supporting Comedy Actor. Other projects include the critically-acclaimed Crash (2005), for which he received nominations from both the Academy Awards and the Golden Globes. He continues to alternate between comedies and dramas, playing Kate Hudson's husband in You, Me and Dupree (2006), followed by Old Dogs (2009) alongside Robin Williams and John Travolta, before getting serious in the action crime thriller Takers (2010).
In 2013, he starred in The Art of the Steal alongside Kurt Russell and Jay Baruchel, as well as the comedy flick Girl Most Likely with Kristen Wiig.
His latest credits include the sci-fi series Wayward Pines (2015), the animated picture Rock Dog (2017) with Luke Wilson and J.K. Simmons, and the comedy Going in Style (2017) with Michael Caine and Alan Arkin.
"I think I'm getting better all the time. I keep learning and my desire to learn keeps getting greater. In that sense, I feel like I'm right where I'm supposed to be."
Filmography:
Going in Style (2017)
Rock Dog (2017)
Bad Country (2014)
The Art of the Steal (2013)
Pawn Shop Chronicles (2013)
Sunlight Jr. (2013)
Girl Most Likely (2012)
Takers (2010)
Armored (2009)
Old Dogs (2009)
Nothing But the Truth (2008)
You, Me and Dupree (2006)
Herbie: Fully Loaded (2005)
Factotum (2005)
Loverboy (2005)
Crash (2005)
Employee of the Month (2004)
City of Ghosts (2002)
Deuce's Wild (2001)
One Night at McCool's (2001) There's Something About Mary (1998)
Wild Things (1998)
In & Out (1997)
Beautiful Girls (1996)
Albino Alligator (1996)
Grace of My Heart (1996)
Frankie Starlight (1995)
To Die For (1995)
Golden Gate (1994)
Mr. Wonderful (1993)
The Saint of Fort Washington (1993)
Singles (1992)
A Kiss Before Dying (1991)
Bloodhounds of Broadway (1989)
Drugstore Cowboy (1989)
Kansas (1988)
The Big Town (1987)
Native Son (1986)
Rebel (1985)
Target / La cible (1985)
The Flamingo Kid (1984)
The Outsiders (1983)
Rumble Fish (1983)
Tex (1982)
Liar's Moon (1982)
Little Darlings (1980)
My Bodyguard (1980)
Over the Edge (1979)
<< back