View Full Site
Matthew Broderick Bio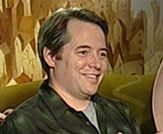 MATTHEW BRODERICK
Date of Birth: March 21, 1962
"I don't have time to be happy," this New York native once said. But it would seem he has a lot to be happy about. He's married to actress Sarah Jessica Parker, he's well respected within his community and he's got a healthy career -- so healthy in fact that he earned $5 million to portray the titular character in the live action version of Inspector Gadget and $100,000 per week while appearing on Broadway in The Producers.
Although his father, James, was an actor and his mother, Patricia, was a playwright, Broderick says, "At times I wanted to be a fireman, a baseball player and a veterinarian, but never an actor. Actually, between the time I was 3 until I was 13, acting was the last thing I ever wanted to do."
But acting came calling when a knee injury sidelined his football and soccer pursuits. He enrolled in New York's prestigious Walden School before eventually making his stage debut at 17 alongside his father in On Valentine's Day.
He went on some renown on the New York stage, winning his first Tony Award for Brighton Beach Memoirs—he won his second in 1995 for playing J. Pierrepont Finch in the Broadway version of How to Succeed in Business Without Really Trying in which he co-starred with his wife.
Broderick almost kept a then-hungry and out of work Canadian from finding employment when he was offered the Michael J. Fox role in the sitcom Family Ties. He was originally chosen to play Alex on that show but passed on the offer because his father was dying of cancer.
His breakthrough film role came as the brainy computer hacker who almost starts World War III in John Badham's WarGames. But the role that really cemented his reputation was that of the title character in the 1986 John Hughes comedy, Ferris Bueller's Day Off. Although Broderick was 24 at the time, his baby-faced good looks made him the perfect choice to play the irrepresible Bueller who became something of a hero to a generation of high school students. Another role where he really shone was opposite Marlon Brando doing a take-off of his own Godfather role in The Freshman.
Broderick added directing to his repertoire when he went behind the camera (as well as acted in) for Infinity, a biopic based on the memoirs of Nobel Prize-winning physicist Richard Feynman with a screenplay written by his mother.
But perhaps for an entire other generation, Broderick is going to be forever remembered as the adult Simba, the character who he gave voice to in The Lion King.
On October 28, 2002, his wife gave birth to their son, James Wilke Broderick, named for his father. Their twin daughters, Marion Loretta Elwell and Tabitha Hodge, were born in 2009.
Broderick reprised his character from the hit Broadway show The Producers in the 2005 feature film version, followed by a co-starring role in Deck the Halls (2006) opposite Danny DeVito. Matthew continues to work both on stage and onscreen, in movies such as Tower Heist (2011), alongside Ben Stiller.
Broderick's latest projects include the comedy Trainwreck (2015), the drama Manchester by the Sea (2016), and the ensemble Rules Don't Apply (2016). Filmography:
Rules Don't Apply (2016)
Manchester by the Sea (2016)
The American Side (2016)
Trainwreck (2015)
Dirty Weekend (2015)
Skum Rocks! (2013)
New Year's Eve (2011)
Tower Heist (2011)
Margaret (2011)
Wonderful World (2009)
The Tale of Despereaux (2008)
Finding Amanda (2008)
Diminished Capacity (2008)
Bee Movie (2007)
Then She Found Me (2007)
Deck the Halls (2006)
The Producers (2005)
Strangers with Candy (2005)
Marie and Bruce (2004)
The Last Shot (2004)
The Stepford Wives (2004)
Good Boy! (2003)
You Can Count on Me (2000)
Inspector Gadget (1999)
Election (1999)
Walking to the Waterline (1998)
Godzilla (1998)
Addicted to Love (1997)
The Cable Guy (1996)
Infinity (1996)
The Road to Wellville (1994)
Mrs. Parker and the Vicious Circle (1994)
The Lion King (1994)
The Night We Never Met (1993)
The Princess and the Cobbler (1993)
Out on a Limb (1992)
The Freshman (1990)
Family Business (1989)
Glory (1989)
Biloxi Blues (1988)
She's Having a Baby (1988)
Torch Song Trilogy (1988)
Courtship (1987)
Project X (1987)
Ferris Bueller's Day Off (1986)
On Valentine's Day (1986)
Ladyhawke (1985)
1918 (1985)
WarGames (1983)
Max Dugan Returns (1983)
<< back