View Full Site
Maya Rudolph Bio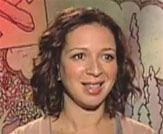 MAYA RUDOLPH
Date of Birth: July 27, 1972
Maya Rudolph began her performing career with the famed improvisational troupe The Groundlings. In 2000, she made her debut on NBC's Saturday Night Live, where she continued as one of the show's regular players for over seven years. Rudolph's turns included memorably skewed portrayals of Oprah Winfrey, Donatella Versace, and Michelle Obama.
Her film work includes Robert Altman's A Prairie Home Companion; Mike Judge's Idiocracy; Bruce Paltrow's Duets; Peter Segal's 50 First Dates; Andrew Niccol's Gattaca; James L. Brooks' As Good As It Gets; and providing the voice of Rapunzel in Shrek the Third and playing Chris Rock's wife in Grown Ups (2010). She also starred in the wildly popular comedy Bridesmaids (2011) and then joined her co-stars Kristen Wiig and Jon Hamm for Friends with Kids (2012). In following years she starred in Inherent Vice (2014) and Sisters (2015).
Maya's latest films include the comedy Popstar: Never Stop Never Stopping (2016), the animated film The Angry Birds Movie (2016), Dax Shepard's comedy CHiPs (2017), as well as animanted comedies The Emoji Movie (2017) and The Nut Job 2: Nutty By Nature (2017).
The child of music producer Dick Rudolph and singer Minnie Riperton, Ms. Rudolph has followed in their footsteps by producing music, singing, and playing instruments in bands. On television she played a recurring role on the NBC comedy series Kath & Kim from 2008 to 2009.
Filmography:
The Nut Job 2: Nutty By Nature (2017)
The Emoji Movie (2017)
We Don't Belong Here (2017)
CHiPs (2017)
Popstar: Never Stop Never Stopping (2016)
Mr. Pig (2016)
Sisters (2015)
Maggie's Plan (2015)
Strange Magic (2015)
Big Hero 6 (2014)
Inherent Vice (2014)
The Nut Job (2014)
Turbo (2013)
Grown Ups 2 (2013)
The Way Way Back (2013)
Friends with Kids (2011)
Zookeeper (2011)
Bridesmaids (2011)
Grown Ups (2010)
MacGruber (2010)
Away We Go (2009)
Shrek the Third (2007)
Idiocracy (2006)
A Prairie Home Companion (2006)
50 First Dates (2004)
Duplex (2003)
Duets (2000)
Chuck & Buck (2000)
As Good as It Gets (1997)
Gattaca (1997)
<< back