View Full Site
Melissa McCarthy Bio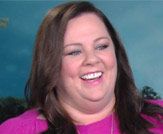 MELISSA McCARTHY
Date of Birth: August 26, 1970
Melissa McCarthy is best known for her portrayal of Sookie St. James on the critically acclaimed series Gilmore Girls. She started her career by doing stand up comedy in New York. She made her first mark in New York at The Stand Up New York and The Improv. She also received dramatic training in The Actors Studio and started performing in many stage productions.
After moving to Los Angeles in 1997, Melissa made her TV debut on her cousin Jenny McCarthy's sketch comedy show. She landed small roles in a number of films, including Go, Charlie's Angels, The Kid and White Oleander before being hired for a starring role on Gilmore Girls in 2000. She played Sookie for seven seasons, then immediately was cast in as Dena, one of Christina Applegate's best friends in ABC's comedy Samantha Who?, which ran for two seasons. In 2010, she was cast as Molly on the CBS comedy series Mike & Molly, and for her work on the show, she won an Emmy in 2011.
Other feature film work includes The Back-up Plan, alongside Jennifer Lopez and Alex O'Loughlin; Life as We Know It with Katherine Heigl; Pretty Ugly People with Josh Hopkins, Missi Pyle and Allison Janney; Just Add Water with Danny DeVito; director John August's sci-fi mystery The Nines, with Ryan Reynolds and Hope Davis and Bridesmaids, in which she stole the show from writer/star Kristen Wiig. For her work in the comedy, she won a Golden Globe and received her first Academy Award nomination. She then starred in a slew of comedies including This Is 40 (2012), Identity Thief (2013), The Heat (2013), Tammy (2014), St. Vincent (2014), and Spy (2015).
The talented comedienne can most recently be seen in the comedies The Boss (2016) and Central Intelligence (2016), as well as the highly anticipated comedy reboot Ghostbusters (2016).
Melissa continues to do improv almost every weekend at The Groundlings Main Company, a world-renowned improv and sketch troupe of which she is a member. She lives in Los Angeles with her husband, actor Ben Falcone, whom she married in October 2005, and their two young daughters, born in 2007 and 2010.
Filmography:
Life of the Party (2018)
Can You Ever Forgive Me? (2017)
Ghostbusters (2016)
Central Intelligence (2016)
The Boss (2016)
Spy (2015)
St. Vincent (2014)
Tammy (2014)
The Heat (2013)
The Hangover Part III (2013)
Identity Thief (2013)
This Is 40 (2012)
Bridesmaids (2011)
Life as We Know It (2010)
The Back-up Plan (2010)
Pretty Ugly People (2008)
Just Add Water (2008)
Cook-Off! (2007)
The Nines (2007)
The Life of David Gale (2003)
White Oleander (2002)
The Third Wheel (2002)
Pumpkin (2002)
Charlie's Angels (2000)
The Kid (2000)
Drowning Mona (2000)
Go (1999)
<< back