View Full Site
Meryl Streep Bio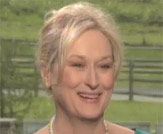 MERYL STREEP
Date of Birth: June 22, 1949
Opera's loss was the cinema's gain when Streep, who began taking voice lessons for opera at 12, developed an interest in acting while in high school. She later majored in drama at Vassar, studied playwrighting and costume design at Dartmouth, and then went on to do graduate work at the Yale School of Drama.
That early voice work has always come in handy as Streep's been able to use her training to dig up any accent you can think of and apply it to the film characters she creates—and usually is at least nominated for one award or another for doing so.
One of Hollywood's most esteemed performers, when she first arrived in Los Angeles she remembers: "My first impression of L.A. was that it just smelled so good. You know, you get used to closing off the olfactory nerves in New York. You walk with your head down, not meeting anyone's eye. L.A. was very friendly, and there were flowers everywhere in February, and night-blooming jasmine." But later, the bloom went off the rose and her lasting impression of L.A was that she "hated being there. I really require a great deal of privacy. I don't like to be out and sort of dressed up and seen."
Many remember Streep's Oscar-nominated performance in The Devil Wears Prada where she played the role of the infamous Miranda Priestly, said to be based loosely on Vogue Editor-in-Chief, Anna Wintour. She also starred in the on-screen rendition of Mamma Mia! in 2008, the Margaret Thatcher biopic The Iron Lady and the comedy Hope Springs, both in 2012.
Streep has been nominated an amazing 17 times for an Oscar—her most recent nomination was for The Iron Lady, which she won in the Best Actress category. She has won two other times as well, for Kramer vs. Kramer and Sophie's Choice. She has also won eight Golden Globes, seven People's Choice Awards and two Emmys. She has a star on the Hollywood walk of Fame at 7020 Hollywood Blvd. She was nominated for an Academy Award for her work in August: Osage County (2014).
More recently, she received nominations from both the Golden Globes and the Academy Awards for her role as the Witch in the musical Into the Woods (2014). She then starred in Ricki and the Flash (2015), SuffragetteFlorence Foster Jenkins (2016). For her work in the latter, she earned numerous nominations for Best Performance By an Actress in a Lead Role, including nominations from the Academy Awards, BAFTA Awards, Golden Globe Awards and the SAG Awards.
Married to Don Gummer since September 1978, Streep has four children.
Filmography:
Mary Poppins Returns (2018)
Florence Foster Jenkins (2016)
Suffragette (2015)
Ricki and the Flash (2015)
Into the Woods (2014)
August: Osage County (2014)
The Giver (2014)
Hope Springs (2012)
The Iron Lady (2012)
To the Arctic (2012)
Dark Matter (2009)
It's Complicated (2009)
Fantastic Mr. Fox (2009) (voice)
Julie & Julia (2009)
Doubt (2008)
Mamma Mia! (2008)
Lions for Lambs (2007)
Chaos (2008)
Dirty Tricks (2008)
Rendition (2007)
Evening (2007)
Dark Matter (2007)
Ant Bully (2006) (voice)
The Devil Wears Prada (2006)
A Prairie Home Companion (2006)
Prime (2005)
Lemony Snicket's a Series of Unfortunate Events (2004)
The Manchurian Candidate (2004)
The Hours (2002)
Adaptation (2002)
Artifical Intelligence (2001)
Music of the Heart (1999)
One True Thing (1998)
Chrysanthemum (1998)
Dancing at Lughnasa (1998)
Marvin's Room (1996)
Before and After (1996)
The Bridges of Madison County (1995)
The Living Sea (1995)
A Century of Cinema (1994)
The River Wild (1994)
the House of the Spirits (1993)
Death Becomes Her (1992)
Defending Your Life (1991)
Postcards from the Edge (1990)
Rabbit Ears: The Fisherman and His Wife (1989)
She-Devil (1989)
A Cry in the Dark (1988)
Ironweed (1987)
Heartburn (1986)
Out of Africa (1985)
Plenty (1985)
Falling in Love (1984)
In Our Hands (1984)
Rabbit Ears: The Velveteen Rabbit (1984) (V)
Silkwood (1983)
Sophie's Choice (1982)
Still of the Night (1982)
The French Lieutenant's Woman (1981)
Manhattan (1979)
Kramer vs. Kramer (1979)
The Seduction of Joe Tynan (1979)
The Deer Hunter (1978)
Julia (1977)
<< back