View Full Site
Michael Angarano Bio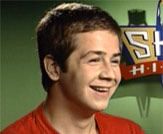 MICHAEL ANGARANO
Date of Birth: December 3, 1987
Born in Brooklyn, NY, Michael Angarano signed up with Ford Models at the age of five and began his acting career. Among his earliest work was playing a guest role on the short-lived CBS drama New York News (1995) starring Mary Tyler Moore and portraying Tiny Tim on stage for the Radio City Christmas Spectacular. His feature film debut came the next year, playing a three-year-old cowboy in I'm Not Rappaport (1996). Roles in three more feature films followed before he landed a recurring role on the daytime soap Another World.
Michael was nominated for a YoungStar Award and a Young Artist Award for his performance as Meryl Streep's violin-playing son in Music of the Heart (1999), then he was cast as Young Will in the acclaimed film Almost Famous (2000). He received another Young Artist Award nomination for his regular role as Chance on the USA Network Inc.'s drama series Cover Me: Based on the True Life of an FBI Family (2000 - 2001). He was able to show his versatility as an actor because each week his character had to change due to his family's undercover status.
When the series came to a close, Michael signed on as a series regular with the hit NBC sitcom, Will and Grace, playing Jack's son Elliott. He played the title role in the Nickelodeon Network's TV movie Maniac Magee (2003) and Young Red Pollard in the Oscar-nominated film Seabiscuit (2003). Michael progressed to starring roles in films such as The Dust Factory (2004), Man in the Chair (2006) and The Art of Getting By (2011).
Because of his busy work schedule, Michael's entire family relocated to California. His younger sister and brother, Erica and Andrew, also have acting careers, while his older sister Kristen is a dancer. Michael was dating Kristen Stewart of Twilight fame until she famously fell in love with and began dating her Twilight co-star, Robert Pattinson.
<< back