View Full Site
Michael B. Jordan Bio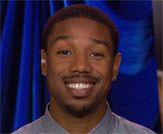 MICHAEL B. JORDAN
Date of Birth: February 9, 1987
Michael B. Jordan was born in Santa Ana, California, but grew up in Newark, New Jersey. Growing up wasn't easy for him. Michael once spoke about it in an interview, admitting he'd had friends who sold drugs and stole cars.
Before his television and film career began, Michael modeled for brands such as Toys "R" Us and Modell's Sporting Goods. His first acting role came in 1999 at age 12 with a small role in The Sopranos. His next job was a guest appearance alongside Bill Cosby in the television show, Cosby. He continued to land small roles, including a big part opposite Keanu Reeves in the 2011 film Hard Ball. His fifth acting job was his first big break, when he landed a recurring role as Wallace in HBO's The Wire. The role earned him critical acclaim and established him as a rising young talent to watch.
In 2003, Michael joined the cast of ABC's daytime soap opera All My Children, playing the role of Susan Lucci's adopted son, Reggie. At age 16, Michael became the youngest African-American actor to be contracted with the popular soap. His three-year role earned him three NAACP Image Awards for Outstanding Actor in a Daytime Drama Series and a Soap Opera Digest Award nomination for Favorite Teen.
Michael's next noteworthy film role was in Jerry LaMothe's indie film, Blackout. The cast was comprised of top African-American actors such as Jeffrey Wright, Zoe Saldana and Melvin Van Pebbles. Michael also continued to play guest-starring roles on hit television shows such as Cold Case, Burn Notice, Law & Order: Criminal Intent, Life to Me and Bones.
His next big role was a starring role as Nate Warren in the series The Assistants. That served as a prequel to his one of most recognized roles, as the quarterback Vince Howard on NBC's Emmy-winning series Friday Night Lights. After three years on Friday Night Lights, Michael joined another NBC show called Parenthood, playing the role of recovering alcoholic Alex during the show's third season. By 2010, Michael's rising career earned him a spot on Nylon magazine's list of 55 Faces of the Future.
After Parenthood, Michael began working more in feature films. In 2012, he starred in the sci-fi thriller Chronicle. The film follows a group of Portland teenagers who develop superpowers after getting exposed to a mysterious substance. Next, he played a supporting role in Anthony Hemingway's 2012 film Redtails, which tells the story of the first African-American pilots to fly in a combat squadron in World War II. Michael added a third film to his resumé that year with Sebastian Guiterrez's crime drama, Hotel Noir.
In 2013, Michael played the lead role in Ryan Coogler's Fruitville Station, which chronicles the true story of Oscar, a 22-year-old who was shot and killed by police while waiting at a subway station. Michael earned critical acclaim for his performance and the film on both the Grand Jury Prize for Dramatic Feature and the Audience Award for U.S. Dramatic Film at the 2013 Sundance Film Festival.
Michael then completed filming Tom Gormican's feature film debut, titled, Are We Officially Dating? The romantic comedy is about a group of Manhattan bachelors and co-stars Zac Efron, Imogen Poots and Miles Teller. More recently, he starred in Fantastic Four alongside Miles Teller and in Creed (2015) alongside Sylvester Stallone.
Filmography:
Black Panther (2018)
Creed (2015)
Fantastic Four (2015)
That Awkward Moment (2014)
Are We Officially Dating? (2013)
Fruitvale Station (2013)
Hotel Noir (2012)
Chronicle (2012)
Red Tails (2012)
Pastor Brown (2009)
Blackout (2007)
Hard Ball (2001)
Black and White (1999)
<< back