View Full Site
Michael Cera Bio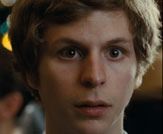 MICHAEL CERA
Date of Birth: June 7, 1988
Brampton, Ontario native Michael Cera began working at the age of four in a Tim Horton's commercial. His first TV role was playing the little brother of the main character in the Canadian TV movie What Katy Did (1999). Guest appearances on series such as I Was a Sixth Grade Alien, Twice in a Lifetime, La Femme Nikita and Doc followed, as well as a supporting role in the TV movie Switching Goals (1999), starring Mary-Kate and Ashley Olsen.
Cera's motion picture debut was in the big budget flick Frequency (2000), starring Dennis Quaid. He moved to Los Angeles after landing a role in a new sitcom called Grubbs (2002), starring Randy Quaid (Dennis' brother). Although eight episodes were completed, the series was cancelled before it even aired.
However, executive producer/writer Mitch Hurwitz saw Cera in the show and asked him to audition for another new sitcom—Arrested Development—starring Jason Bateman. Nearly 15 by then, Cera was chosen to play Bateman's 13-year-old son, George-Michael. Though the show never received high ratings among viewers, the critics loved it and Cera shared Screen Actors Guide nominations in both 2005 and 2006 for "Outstanding Performance by an Ensemble in a Comedy Series" with the rest of the cast.
Since the series came to an end in 2006, Cera has kept busy in motion pictures, including playing a lead role in Superbad (2007) and in Juno (2007), which reunited him with his former TV dad, Jason Bateman, and also stars Jennifer Garner and Ellen Page. The movie was a big hit and Cera found himself in demand on the big screen, starring in films such as Nick and Norah's Infinite Playlist (2008), Year One (2009), Scott Pilgrim vs. the World (2010) and This is the End (2013).
Most recently, Cera lent his voice to the R-rated animated comedy Sausage Party (2016), starred in the drama Human People (2016) and voiced Robin in the animated film The Lego Batman Movie (2017).
In 2007, he and his friend Clark Duke signed a deal with CBS to write, product, direct and act in an Internet series called Clark and Michael. Each 10-minute episode is distributed on CBS' Internet channel Innertube.
He has also provided voice talent for series such as Noddy, The Berenstain Bears and Howard Stern: The High School Years.
Cera divides his time between Brampton and Los Angeles.
Filmography:
Blazing Samurai (2017)
How to Be a Latin Lover (2017)
The Lego Batman Movie (2017)
Human People (2016)
Sausage Party (2016)
Entertainment (2015)
Hits (2014)
Crystal Fairy (2013)
The End of Love (2013)
This Is The End (2013)
Scott Pilgrim vs. the World (2010)
Youth in Revolt (2010)
Paper Heart (2009)
Year One (2009)
Nick and Norah's Infinite Playlist (2008)
Extreme Movie (2008)
Juno (2007)
Superbad (2007)
Parental Guidance Suggested (2007)
Darling Darling (2005)
Confessions of a Dangerous Mind (2002)
Frequency (2000)
Steal This Movie (2000)
<< back