View Full Site
Michael Douglas Bio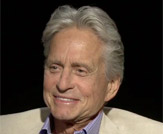 MICHAEL DOUGLAS
Date of Birth: September 25, 1944
Michael Douglas has gone on the record as saying: "The exciting thing about making motion pictures today is that everything is up for grabs. And you had better grab."
And grab he has. From TV star, to producer, to writer, to actor, this son of Hollywood legend Kirk Douglas has done it all. Although his parents divorced when he was five and Douglas ended up living in Connecticut, he remembers watching his famous father on TV in 20,000 Leagues Under the Sea and in such films as Lust for Life.
"My kids never had the advantage I had. I was born poor." Kirk Douglas once said about his children. But that "handicap" has never seem to get in the way of Michael's success.
On how having a big star for a father affected him, Douglas says: "The biggest advantage was that I got to see my father handle himself in public situations as a movie star. And I saw him with his fellow movie stars, acting like real people. That was a useful lesson."
As a kid, Douglas majored in drama at the University of California in Santa Barbara and later studied at New York's American Place Theater. After graduation, he landed a few small film roles before becoming a small screen staple on The Streets of San Francisco as Inspector Steve Keller opposite Karl Malden.
It was while he was on that hit show that Douglas began the producing part of his career. He immediately made a name for himself when he co-produced One Flew Over the Cuckoo's Nest, which won the five top Oscars, including Best Picture (he would later add an acting Oscar to his collection for his role in Wall Street.)
Some of his other producing gigs have included the Romancing the Stone movies (in which he also starred) Flatliners, Face/Off, The Rainmaker and a little 1979 number called The China Syndrome about a meltdown at a nuclear power generated facility that was released at the same time that the Three Mile Island nuclear accident occurred. "It goes beyond the realm of coincidence," Michael said about that little bit of synchronicity, "it's enough to make you religious."
As for how he sums up his own career, Douglas says, "I always think of one's career like a surfer. You wait, you catch your four waves, then you wait a bit for the next good one."
Douglas divorced his wife of 23 years, Diandra, in June 2000 and on November 18, married the much-younger Catherine Zeta-Jones (25 years his junior). They have two children, Dylan Michael, born August 8, 2000 and Carys Zeta Douglas, born April 20, 2003. Douglas also has a son Cameron (born December 13, 1978) from his first marriage, who was sentenced to prison in 2010 for drug dealing.
In 2010, Douglas announced that he had been diagnosed with a tumour in his throat and was undergoing radiation and chemotherapy to beat the cancer. In January 2011 he announced that the tumor was successfully removed.
Douglas can be seen in the thriller Haywire (2012) alongside Gina Carano, Ewan McGregor, and Channing Tatum. More recently, he starred in Beyond the Reach (2015) and he'll soon be seen in the highly anticipated Ant-Man (2015).
<< back