View Full Site
Michael Peña Bio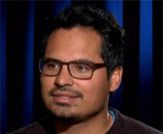 MICHAEL PENA
Date of Birth: January 13, 1976
Born and raised in Chicago, Michael Peña began his acting career in the low budget film Running Free (1994), which never made it to theaters. His first big break came when he beat out hundreds of others in an open call for a role in Peter Bogdanovich's TV movie To Sir, with Love II (1996), starring Sidney Poitier.
Although he hasn't acquired household name status (yet), Michael has worked steadily ever since, amassing an impressive number of television and movie credits.
On television, he's made guest appearances on shows such as Touched by an Angel, The Sentinel, 7th Heaven, Felicity, Roswell, ER, NYPD Blue and CSI: Crime Scene Investigation, and played a regular role as Detective Armando Renta on The Shield.
His films include Gone in Sixty Seconds (2000) starring Nicolas Cage, Buffalo Soldiers (2001) with Joaquin Phoenix, The United States of Leland (2003) with Ryan Gosling, Million Dollar Baby (2004) directed by Clint Eastwood, Babel (2006) with Brad Pitt and The Lincoln Lawyer (2011) starring Matthew McConaughey.
For his work in the Oscar-winning film Crash (2004), Michael won a Best Actor Award at the 2006 ALMA Awards. In Oliver Stone's World Trade Center, he garnered a starring role as Will Jimeno, one of two Port Authority police officers who were trapped under the rubble at Ground Zero in New York City on 9/11.
Michael then played a cop opposite Jake Gyllenhaal in End of Watch (2012), which premiered at the 2012 Toronto International Film Festival. He also starred in the highly-anticipated crime drama Gangster Squad (2013) alongside Ryan Gosling, Emma Stone and Sean Penn, followed by the war drama Fury (2014), the animated film Ant-Man (2015), and the space drama The Martian (2015). Most recently, he appeared opposite Will Smith, Kate Winslet, and Edward Norton in the drama Collateral Beauty (2016) and opposite Dax Shepard in CHiPS (2017).
Michael makes his home in Los Angeles with his wife, Brie, and their young son.
Filmography:
A Wrinkle in Time (2018)
The LEGO Ninjago Movie (2017)
Murder on the Orient Express (2017)
My Little Pony: The Movie (2017)
CHiPS (2017)
Collateral Beauty (2016)
War on Everyone (2016)
The Martian (2015)
Ant-Man (2015)
The Vatican Tapes (2015)
Cesar Chavez (2014)
Fury (2014)
American Hustle (2013)
Turbo (2013)
Gangster Squad (2013)
End of Watch (2012)
Tower Heist (2011)
30 Minutes or Less (2011)
The Good Doctor (2011)
The Lincoln Lawyer (2011
Battle Los Angeles (2011)
Everything Must Go (2010)
My Son, My Son, What Have Ye Done (2009)
Observe and Report (2009)
The Lucky Ones (2008)
Lions for Lambs (2007)
Shooter (2007)
World Trade Center (2006)
Babel (2006)
Fifty Pills (2006)
Dream (2005)
Little Athens (2005)
Million Dollar Baby (2004)
Crash (2004)
The Calcium Kid (2004)
Love Object (2003)
The United Statse of Leland (2003)
Gone in Sixty Secons (2000)
Bellyfruit (1999)
La Cucaracha (1998)
Boogie Boy (1998)
Star Maps (1997)
My Fellow Americans (1996)
Running Free (1994)
<< back