View Full Site
Michael Shannon Bio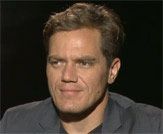 MICHAEL SHANNON
Date of Birth: August 7, 1974
Michael Shannon began his career as a stage actor in Chicago, where he helped found A Red Orchid Theatre. He has since worked with Steppenwolf Theatre Company, Northlight Theatre, and other groups. Shannon originated the role of Peter Evans in Bug in 2004 and starred in the 2007 film adaptation with Ashley Judd and Harry Connick Jr., directed by William Friedkin. He has also played roles in the stage productions Killer Joe and Man From Nebraska written by Steppenwolf ensemble member Tracy Letts.
Michael made his film debut with a small role in Groundhog Day (1993) as a wedding groom. Later, he graduated to roles in Pearl Harbor (2001), Vanilla Sky (2001) and 8 Mile (2002). He played the villain in Kangaroo Jack (2003). Shannon scored a major role in Grand Theft Parsons (2003) as the hippie, Larry Oster-burg. In 2006, he played the leader of a prison white supremist group, Lynard, in Let's go to Prison. Other roles include reprising his role as Peter Evans in Bug (2006) and playing Ray Zumbro in Lucky You (2007).
Michael received his first Academy Award nomination after putting in a solid performance in the drama Revolutionary Road (2008), opposite Kate Winslet and Leonardo DiCaprio. In 2008, Michael was featured in the off-Broadway production of Stephen Adly Guirgis's The Little Flower of East Orange, presented by LAByrinth Theater Company and The Public Theater, directed by Philip Seymour Hoffman and also featuring Ellen Burstyn.
Since then, he has continued to take on roles in feature films. He appeared alongside Joseph Gordon-Levitt in Premium Rush (2012). He also had a recurring role as Agent Nelson Van Alden on the hit HBO series Boardwalk Empire from 2010 until 2012, and starred in The Iceman (2013) alongside James Franco and Winona Ryder, as well as in Young Ones(2014) and Freeheld (2015). More recently, he starred in Jeff Nichols' sci-fi flick Midnight Special alongside Joel Edgerton and Kirsten Dunst, the historical comedy Elvis & Nixon opposite Kevin Spacey, and the drama Complete Unknown alongside Rachel Weisz. He also appeared in the true-story drama Loving with Joel Edgerton and Ruth Negga, the thriller Salt and Fire (2016), the drama Frank & Lola (2016) with Imogen Poots, and the drama thriller Nocturnal Animals (2016) Jake Gyllenhaal and Amy Adams. For his work in the latter, he earned an Academy Award nomination for Best Performance By An Actor in a Supporting Role.
Michael is married to Steppenwolf ensemble member Kate Arrington, with whom he has a daughter.
Filmography:
The Current War (2018)
Nocturnal Animals (2016)
Frank & Lola (2016)
Salt and Fire (2016)
Loving (2016)
Complete Unknown (2016)
Elvis & Nixon (2016)
Midnight Special (2016)
Freeheld (2015)
99 Homes (2015)
Young Ones (2014)
Boardwalk Empire: The Complete Third Season (2013)
The Iceman (2013)
Man of Steel (2013)
Premium Rush (2012)
Mud (2012)
Machine Gun Preacher (2011)
The Broken Tower (2011)
Return (2011)
Take Shelter (2011)
My Son, My Son, What Have Ye Done (2010)
Jonah Hex (2010)
13 (2010)
The Runaways (2010)
The Missing Person (2009)
Revolutionary Road (2008)
Before the Devil Knows You're Dead (2007)
Lucky You (2007)
Shotgun Stories (2007)
Let's Go to Prison (2006)
World Trade Center (2006)
Criminal (2004)
The Woodsman (2004)
Grand Theft Parsons (2003)
Bad Boys II (2003)
Kangaroo Jack (2003)
8 Mile (2002)
High Crimes (2002)
Vanilla Sky (2001)
Pearl Harbor (2001)
Tigerland (2000)
Cecil B. DeMented (2000)
Jesus' Son (1999)
Chicago Cab (1997)
Chain Reaction (1996)
Groundhog Day (1993)
<< back