View Full Site
Michelle Pfeiffer Bio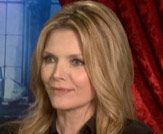 MICHELLE PFEIFFER
Date of Birth: April 29, 1958
From Miss Orange County to checkout girl at her local supermarket to her thankless bimbo roles to A-List actress, Michelle Pfeiffer has come a long way since breaking out of the pack as Al Pacino's wife in Scarface (1983). Now, she says, "I just can't complain about my life or my career, because—how can I complain? I'm satisfied with both."
A native of Santa Ana, California, Pfeiffer's career took off after Scarface when she turned in stunning performances in such films as Dangerous Liaisons (1988) and The Fabulous Baker Boys (1989), for which she won a Golden Globe Award, and then upped her asking price after Dangerous Minds (1995) turned into a mega hit. Pfeiffer has gone on to star in several other recognizable films, including What Lies Beneath (2000), I Am Sam (2002), Hairspray (2007), New Year's Eve (2011) and the more recent 2012 hits Dark Shadows and People Like Us. She most recently starred in The Family (2013) alongside Robert De Niiro and Tommy Lee Jones.
Along the way, Pfeiffer's personal life, as it inevitably does in Hollywood, turned into fodder to the tabloids as she was married to thirtysomething's Peter Horton while having an affair with the soon-to-be-divorced John Malkovich. Then she adopted a baby, Claudia Rose, in 1993 before marrying successful TV writer-producer David E. Kelley (Chicago Hope, Picket Fences). They have a son, John Henry.
But as Pfeiffer says about the tabloid culture that used to dog her career before she settled down with Kelley, "Frankly, my life is not all that interesting. I'm married; I've got kids. When you're single, they find your life more interesting, more titillating."
<< back