View Full Site
Mike Myers Bio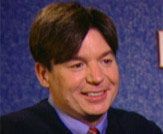 MIKE MYERS
Date of birth: May 25, 1963
This Scarborough, Ontario, native is responsible—some might say culpable—for adding words to our vocabulary. His first feature, Wayne's World, brought us the delightful "schwing" and his latest, Austin Powers, gave us "shagalicious."
As a kid growing up in Scarborough, Myers used to watch Saturday Night Live and dream about being on the show even as he worked on his Wayne character to impress girls at parties.
"Lorne is a hero to me," says Myers. In fact, while in junior high in Scarborough, he says, "I was going to write a speech about comedy in Canada, and then I changed it to make it just on Lorne Michaels because I always wanted to be on Saturday Night Live."
Well, the boy had his dream come true. After doing some comedy work in Toronto, he winged his way down to New York and into the SNL spotlight. "Lorne gave me my break on TV and he gave me my break in the movies," says Myers. "I never knew I'd be on SNL, doing characters and all that."
In true Canadian fashion, Myers met his wife, Robin Ruzan, at a hockey game. As the story goes, she was hit by a puck and Myers came to console her and ended up falling in love.
As for his hometown of Scarborough, a suburb of Toronto, Myers says: "Toronto is always home. There's a certain attitude there that doesn't exist anywhere else in the world. I really miss it."
In 2003, Myers was given a star on Canada's Walk of Fame and a Toronto street near the neighborhood where he grew up was named for him. In 2007, he and Robin were divorced.
Filmography (actor):
The Secret Life of Walter Mitty (2010)
Shrek Forever After (2010) (voice)
Inglourious Basterds (2009)
The Love Guru (2008)
Shrek the Third (2007) (voice)
Shrek 2 (voice) (2004)
The Cat in the Hat (2003)
Nobody Knows Anything (2003)
View from the Top (2002)
Austin Powers in Goldmember (2002)
Shrek (2001) (voice)
Nobody Knows Anything (2000)
Pete's Meteor (2000)
Mystery, Alaska (1999)
Austin Powers: The Spy Who Shagged Me (1999)
54 (1998)
It's a Dog's Life (1998)
Austin Powers: International Man of Mystery (1997)
Wayne's World 2 (1993)
So I Married an Axe Murderer (1993)
Wayne's World (1992)
Elvis Stories (1989)
<< back