View Full Site
Miles Teller Bio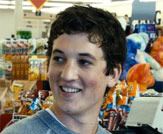 MILES TELLER
Date of Birth: February 20, 1987
Pennsylvania native Miles Teller lived a nomadic childhood due to his father's job as a nuclear plant engineer.
After obtaining a Bachelor of Fine Arts degree from New York University's Tisch School of the Arts, he made his television debut in 2009 playing James Boorland in the ABC-TV dark comedy series, The Unusuals.
His film debut came shortly afterwards in John Cameron Mitchell's Rabbit Hole, which starred Nicole Kidman, Aaron Eckhart and Dianne Wiest. Teller's role as Jason earned him a Best Supporting Actor nomination at the Chlotrudis Awards 2011 as well as a Discovery Award nomination at the Savannah Film Festival.
After starring as Willard Hewitt in the stage musical Footloose, Teller reprised this role in the hit film remake of the classic dance movie, which starred Kenny Wormald and Julianne Hough.
Since then he has been landing roles in a variety of independent and mainstream films such as Project X, 21 and Over and The Spectacular Now. He also starred opposite Zac Efron in the buddy comedy That Awkward Moment before reuniting with Shailene Woodley in Divergent. In recent years, he starred in the Oscar-winning drama Whiplash (2014), the sequel Insurgent (2015), and the remake Fantastic Four (2015).
Miles can most recently be seen in the war/crime dramedy War Dogs (2016) alongside Jonah Hill, the drama Thank You for Your Service (2016), and the sports biopic Bleed for This (2016).
Filmography:
Granite Mountain (2017)
Bleed for This (2016)
Thank You for Your Service (2016)
War Dogs (2016)
Get a Job (2016)
Allegiant (2016)
Fantastic Four (2015)
Insurgent (2015)
Two Night Stand (2014)
Whiplash (2014)
Divergent (2014)
That Awkward Moment (2014)
The Spectacular Now (2013)
Get a Job (2013)
21 & Over (2013)
Project X (2012)
Footloose (2011)
Rabbit Hole (2010)
<< back