View Full Site
Minnie Driver Bio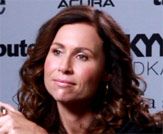 MINNIE DRIVER
Date of Birth: January 31, 1970
British-born Minnie Driver began her career shortly after graduating from the Webber-Douglas Academy of Dramatic Art in London, England. Work on the British stage and what she terms "crappy TV" was augmented by her other career as a jazz vocalist and guitarist at various London clubs.
Where she first came to the attention of North American audiences was in the coming-of-age film Circle of Friends where she was a "big" presence opposite Chris O'Donnell. In order to convincingly portray the supposedly frumpish and homely lead character, Circle director Pat O'Connor insisted that Minnie (real name, Amelia) gain over 20 pounds.
"When a man puts on weight for a part, he's called a great actor," Minnie says about that experience now. "When a woman puts on weight for a part, she's called fat. It's so unfair."
Unfair or not, it was certainly worth it as Minnie made her presence known. And then she made it known that she really wasn't that somewhat overweight character she played in Circle by taking off the pounds to fulfill a fantasy of dancing naked in the opening silhouette credits of a Bond film. The film was GoldenEye and she got to do what she terms "all that woo-woo dancing."
After that film she made the move to California, about which she says, "I absolutely love the geography of Los Angeles. When you come to L.A., you're encouraged to leave who you are at the front door, the quicker, the better."
Since her move she's been inundated with film offers and has turned in great performances in such movies as Big Night, Grosse Point Blank and Good Will Hunting —the former two included relationships with her costars, John Cusack and Matt Damon respectively. (She also came away with a Best Supporting Actress Oscar nomination for Good Will Hunting.) She began dating actor Josh Brolin in 1999, and they announced their engagement in 2001, but the relationship came to an end six months later and Brolin went on to marry Diane Lane. In 2013, she starred in the British comedy I Give it a Year starring Rose Byrne, Rafe Spall and Simon Baker. More recently, she starred in the 2014 horror film Stage Fright.
Driver gave birth to a boy, Henry Story Driver in 2008, but has kept the father's identity secret. Also in 2008, she won a Golden Reel Award at the Tiburon International Film Festival as Best Actress for Take (2007).
Golden Reel Award
<< back