View Full Site
Miranda Otto Bio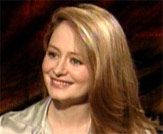 MIRANDA OTTO
Date of Birth: December 16, 1967
As the daughter of well-known Australian actor Barry Otto, Miranda Otto was destined to become an actress. She attended the prestigious Australian drama school NIDA, which boasts other famous graduates such as Mel Gibson, Judy Davis and Cate Blanchett. At only 18, she starred as Emma in the feature film Emma's War (1986), alongside Lee Remick and Terrence Donovan. She worked steadily in Australian productions over the next few years and in 1998 she landed a role in her first American film, playing Marty Bell in The Thin Red Line (1998) with an all-star cast including Sean Penn, John Cusack and Nick Nolte. For financial reasons, by the late 1990s, American productions were traveling to Australia to film, finding they could do more on their budget than if they stayed in the U.S. Her next project was an HBO-TV movie called The Jack Bull (1999), again with John Cusack, and John Goodman.
Having made a name for herself, Miranda to moved to the U.S. to film a lead role in the Hollywood feature film What Lies Beneath (2000), starring Harrison Ford and Michelle Pfeiffer. Next up was the comedy Human Nature (2001), starring Patricia Arquette. Otto was fast becoming known as an international actress, and she found herself traveling to England, Italy, Poland and Canada for roles in films such as Julie Walking Home (2001) for acclaimed Polish director Agnieszka Holland. She then landed the plum role of Éowyn in The Lord of the Rings: The Two Towers (2002) and The Lord of the Rings: The Return of the King (2003), filmed in New Zealand.
When she can find time, Miranda also performs on stage, and won rave reviews in 2002 for her portrayal of Nora Helmer in the Sydney Theatre Company's production of the Ibsen classic, A Doll's House. For her film work, she has been honored with Australian Film Institute award nominations for The Girl Who Came Late (1991), The Last Days of Chez Nous (1992), The Well (1997) and In The Winter Dark (1998). Her most recent films include I, Frankenstein (2014), The Homesman (2014), The Daughter (2016) and Annabelle: Creation (2017).
Miranda married Australian actor Peter O'Brien on January 1, 2003. They have a daughter together.
Filmography:
Annabelle: Creation (2017)
The Daughter (2016)
The Homesman (2014)
I, Frankenstein (2014)
Reaching for the Moon (2013)
The Turning (2013)
War of the Worlds (2005)
In My Father's Den (2004)
Flight of the Phoenix (2004)
Danny Deckchair (2004)
The Lord of the Rings: The Return of the King (2003)
The Lord of the Rings: The Two Towers (2002)
Doctor Sleep (2002)
Julie Walking Home (2001)
La volpe a tre zampe (2001)
Human Nature (2001)
What Lies Beneath (2000)
Kin (2000)
The Thin Red Line (1998)
In the Winter Dark (1998)
Dead Letter Office (1998)
Doing Time for Patsy Cline (1997)
True Love and Chaos (1997)
The Well (1997)
Love Serenade (1996)
Sex Is a Four Letter Word (1995)
The Nostradamus Kid (1993)
The Last Days of Chez Nous (1992)
The Girl Who Came Late (1991)
The 13th Floor (1988)
Initiation (1987)
Emma's War (1986)

<< back