View Full Site
Morgan Freeman Bio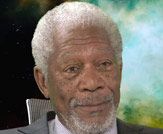 MORGAN FREEMAN
Date of Birth: June 1, 1937
Born in Memphis, Tennessee, Freeman studied acting at Los Angeles City College after a five-year stint in the Air Force. A true Renaissance man, he has done it all, from Broadway to children's television, soap operas and finally, starring roles in big budget features. He made his Broadway debut opposite Pearl Bailey in an all-black revival of Hello Dolly in 1968, and later gained broad exposure as Easy Reader in Educational TV's The Electric Company. "I discovered at 12 I was born to pretend," he says. "I studied ballet, tap, jazz—I could do all the moves. And I had singing lessons. I can do it all. I am show business!"
On the big screen from the early 1970s, Freeman made his breakthrough into big budget films with Brubaker (1980), starring Robert Redford. He won the National Society of Film Critics Best Supporting Actor Award for Street Smart (1987), and was nominated for a Best Actor Academy Award for his inspiring performance in Driving Miss Daisy (1989) and although he didn't win the statuette, he won a Golden Globe award for his work in the film, as well as a Silver Berlin Bear from the Berlin International Film Festival, an Image Award and a National Board of Review award. "I don't think of acting as a creative endeavor," Freeman says. "We're more craftsmen, because we don't create from nothing."
For his role as Red in The Shawshank Redemption (1994), Freeman received Oscar and Golden Globe nominations. He won an Empire Award as Best Actor for Se7en (1995), and in 2000, he received an Outstanding Achievement in Acting award at the Hollywood Film Festival as well as the Joseph Plateau Life Achievement Award at the Flanders International Film Festival. From the Philadelphia Festival of World Cinema, he received a Lifetime Achievement Award in 2001, and got a well-deserved Star on the Walk of Fame on March 18, 2003. Now in his sixties, Freeman continues to work non-stop, winning awards and critical acclaim for nearly every performance. For Million Dollar Baby (2004), he received his fourth Oscar nomination and his first win. In 2010, he received a fifth Oscar nomination, this time for his portrayal of Nelson Mandela in Invictus (2009). Freeman has continued to enjoy an exremely successful film career. He reprised his role as Lucius Fox in the final chapter of Christopher Nolan's Batman trilogy, The Dark Knight Rises (2012). He also starred in Last Vegas (2013)and Transcendence (2014). Most recently, he lent his voice in The LEGO Movie (2014) and narrates the true story of lemurs in Island of Lemurs: Madagascar (2014). He also starred in the 2014 thriller Transcendence. He made a short appearance in Ted 2 (2015) and starred in Last Knights (2015). More recently, he starred in London Has Fallen (2016).
The legendary actor's most recent works include Now You See Me 2 (2016), in which he reprises his role as Thaddeus Bradley, the epic remake of the 1959 classic Ben Hur (2016), and the comedy Going in Style (2017) with Michael Caine and Alan Arkin.
Freeman has been married and divorced twice. He has two children from his first marriage and two children from his second.
Filmography:
The Nutcracker and the Four Realms (2018)
Going in Style (2017)
Ben-Hur (2016) (2016)
Now You See Me 2 (2016)
London Has Fallen (2016)
5 Flights Up (2015)
Last Knights (2015)
Ted 2 (2015)
Transcendence (2014)
Island of Lemurs: Madagascar (2014)
The LEGO Movie (2014)
Transcendence (2014)
Last Vegas (2013)
Now You See Me (2013)
Oblivion (2013)
Olympus Has Fallen (2013)
The Dark Knight Rises (2012)
The Magic of Belle Isle (2012)
Dolphin Tale (2011)
Conan the Barbarian (2011)
Red (2010)
The Last Full Measure (2010)
Invictus (2009)
The Maiden Heist (2009)
The Code (2009)
The Dark Knight (2008)
Wanted (2008)
The Bucket List (2007)
Gone, Baby, Gone (2007)
The Feast of Love (2007)
Evan Almighty (2007)
The Contract (2006)
Lucky Number Slevin (2005)
An Unfinished Life (2005)
March of the Penguins (2005) (voice)
Batman Begins (2005)
Edison (2005)
Unleashed (2005)
Million Dollar Baby (2004)
An Unfinished Life (2004)
The Big Bounce (2004)
Bruce Almighty (2003)
Levity (2003)
Dreamcatcher (2003)
The Sum of All Fears (2002)
High Crimes (2002)
Along Came A Spider (2001)
Long Walk to Freedom (2001)
Nurse Betty (2000)
Water Damage (1999)
Deep Impact (1998)
Hard Rain (1998)
Amistad (1997)
Kiss the Girls (1997)
Chain Reaction (1996)
Moll Flanders (1996)
Se7en (1995)
Outbreak (1995)
The Shawshank Redemption (1994)
The Power of One (1992)
Unforgiven (1992)
Robin Hood: Prince of Thieves (1991)
The Bonfire of the Vanities (1990)
Driving Miss Daisy (1989)
Glory (1989)
Johnny Handsome (1989)
Lean on Me (1989)
Blood Money: The Story of Clinton and Nadine (1988)
Clean and Sober (1988)
Street Smart (1987)
Execution of Raymond Graham (1985)
Marie (1985)
That Was Then... This Is Now (1985)
Harry & Son (1984)
Teachers (1984)
Eyewitness (1981)
Brubaker (1980)
Roll of Thunder, Hear My Cry (1978)
<< back