View Full Site
Nicolas Cage Bio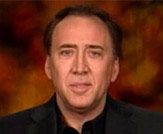 NICOLAS CAGE
Date of Birth: January 7, 1964
Cage's uncle is Francis Ford Coppola but he didn't want any favors in Hollywood so he changed his name from Coppola to Cage in honor of the musician John Cage. He has had a string of successes that range from comedy to romance to crime and thrillers. In 1996, he was the recipient of the Academy Award for Leaving Las Vegas.
He is known for delving deeply into his roles and identifying with his characters, even to the extent of having a tooth removed without Novocaine for his 1989 role in Birdy. He also ate a live cockroach in Vampire's Kiss.
Cage was born in Los Angeles. His mother suffered bouts of depression and was hospitalized during his childhood. Nevertheless, he was close to her and later used his understanding of her mental illness to help create his film characters. His parents divorced when he was twelve. Cage left high school early to pursue acting studies at the American Conservatory Theater. He made his film debut in Valley Girl (1983) and began portraying a series of characters that were loopy, underhanded and borderline psychotic.
Cage played opposite Cher in the wildly popular Moonstruck, transforming himself from a brooding man who had been left at the altar to a romantic and cultured opera buff. Again, his performance was driven by real life, since he had recently suffered a break-up with actress Jenny Wright.
"My acting has always been my therapy, "says Cage. "The work has been what saved me."
In 2000, he tried his hand at something completely different—playing the lead in a romantic comedy with The Family Man, and he won a Blockbuster Entertainment Award for his effort. In Adaptation (2002), he played the dual role of brothers Charlie and Donald Kaufman, and earned Academy Award and Golden Globe nominations for his performances. Cage can be seen reprising his role as the devil's right-hand man in Ghost Rider: Spirit of Vengeance (2012), the sequel to the 2007 hit, Ghost Rider. He then starred in the drama Joe (2014), the action thrillers Left Behind (2014) and Dying of the Light (2014), and the drama The Runner (2015).
The veteran actor has kept quite busy more recently, starring in the crime thriller The Trust (2016) alongside Elijah Wood, the crime drama Dog Eat Dog (2016) opposite Willem Dafoe, the biopic Snowden (2016) starring Joseph Gordon-Levitt, the war drama USS Indianapolis: Men of Courage (2016), and the comedy Army of One (2016).
Cage has been married three times—his first wife was actress Patricia Arquette (1995 to 2001), but the marriage ended in divorce. A long time Elvis fan, he then married Lisa Marie Presley, but his second marriage lasted only a few months. He is currently married to Alice Kim, whom he met at a sushi bar where she worked as a waitress. She was 20 when they married. They have a son together, named Kal-el Coppola Cage. Cage also has a son, Weston Coppola-Cage, from a previous relationship.
* 1995 Actor in a Leading Role Oscar winner for Leaving Las Vegas.
Filmography (actor):
Army of One (2016)
USS Indianapolis: Men of Courage (2016)
Snowden (2016)
Dog Eat Dog (2016)
The Trust (2016)
Pay the Ghost (2015)
The Runner (2015)
Dying of the Light (2014)
Left Behind (2014)
Outcast (2013)
Joe (2014)
The Frozen Ground (2013)
The Croods (2013) (Voice)
Stolen (2012)
Ghost Rider: Spirit of Vengeance (2011)
Trespass (2011)
Seeking Justice (2011)
Drive Angry (2011)
Season of the Witch (2011)
The Sorcerer's Apprentice (2010)
Kick-Ass (2010)
Astro Boy (2009) (voice)
The Bad Lieutenant: Port of Call – New Orleans (2009)
G-Force (2009) (voice)
Knowing (2009)
Bangkok Dangerous (2008)
National Treasure: Book of Secrets (2007)
Next (2007)
Grindhouse (2007)
Ghost Rider (2007)
The Wicker Man (2006)
World Trade Center (2006)
The Any Bully (2006) (voice)
The Weather Man (2005)
Lord of War (2005)
National Treasure (2004)
Matchstick Men (2003)
Adaptation (2002)
Sonny (2002)
Windtalkers (2002)
Christmas Carol: The Movie (2001)
Captain Corelli's Mandolin (2001)
The Family Man (2000)
Gone in Sixty Seconds (2000)
Bring Out the Dead (1999)
8MM (1999)
Snake Eyes (1998)
City of Angels (1998)
Face/Off (1997)
Con Air (1997)
The Rock (1996)
Leaving Las Vegas (1995)
Kiss of Death (1995)
Trapped in Paradise (1994)
It Could Happen to You (1994)
Guarding Tess (1994)
Deadfall (1993)
Red Rocket West (1993)
Amos & Andrew (1993)
Homeymoon in Vegas (1992)
Zandalee (1991)
Wild at Heart (1990)
Fire Birds (1990)
Tempo di uccidere (1989)
Never on Tuesday (1989) (uncredited)
Vampire's Kiss (1988)
Moonstruck (1987)
Peggy Sue Got Married (1986)
The Boy in Blue (1986)
Birdy (1984)
The Cotton Club (1984)
Racing with the moon (1984)
Rumble Fish (1983)
Valley Girl (1983)
Fast Times at Ridgemont High (1982)
Filmography (director):
Sonny (2002)
<< back