View Full Site
Olivia Colman Bio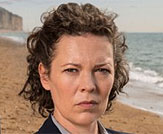 Olivia Colman
Date of Birth: January 30, 1974
English actress Olivia Colman (birth name: Sara Caroline Olivia Colman) was born in a city in Norfolk, two and a half hours north of London, called Norwich. She went to two schools as a young girl, Norwich High School for Girls in her hometown and Gresham's School in Holt.
Olivia was bitten by the acting bug at the age of 16, when she was cast as the lead in a school production of The Prime of Miss Jean Brodie. After graduation, Olivia began studying teaching at Homerton College at the prestigious Cambridge University.
During her time there, she earned a spot in the Cambridge University Footlights Dramatic Club (known simply as Footlights), a widely revered theatrical club in the British comedy community. In order to become a more well-rounded performer, she then went to The Old Vic Theatre School to receive traditional dramatic training. However, it was comedy that would mark the actress' career.
Olivia got her first big break in 2000 as a starring player on the BBC comedy sketch show Bruiser, which ran for six episodes. She would go on to act in many high-profile British TV shows, including People Like Us, Look Around You, Black Books, The Office, The Time of Your Life and Doctor Who.
Her first big film appearance was in the cult comedy Hot Fuzz (2007). But it wasn't until her performance in BBC Two's 2010 sitcom Rev that she got major recognition, earning her the first of many BAFTA TV Award nominations.
Olivia kept quite busy the following year, with a recurring role on the BBC series Exile alongside Jim Broadbent and the mockumentary series Twenty Twelve, alongside Hugh Bonneville.
In addition to a lengthy television resumé, the talented comedian has appeared in many critically acclaimed British drama films, such as Tyrannosaur (2011), for which she won both a British Independent Film Award and a London Film Critics Circle Award, The Iron Lady (2011), and Hyde Park on Hudson (2012).
In 2013, Olivia landed her most notable role to date, starring in the hit ITV drama Broadchurch. She won a BAFTA TV Award for Best Actress for her performance as Detective Sergeant Ellie Miller.
Olivia can also be seen in the 2015 dramedy The Lobster, alongside Colin Farrell and Rachel Weisz, the British musical mystery London Road and the BBC miniseries The Night Manager, starring opposite Tom Hiddleston and Hugh Laurie.
She is married to English actor Ed Sinclair, with whom she has three children.
Filmography:
London Road (2015)
Thomas & Friends: Sodor's Legend of the Lost Treasure (2015)
The Lobster (2015)
Thomas & Friends: Tale of the Brave
Cuban Fury (2014)
Locke (2014)
I Give It a Year (2013)
Hyde Park on Hudson (2012)
The Iron Lady (2011)
Arrietty (2011)
Tyrannosaur (2011)
Dog Altogether (2007)
I Could Never Be Your Woman (2007)
Grow Your Own (2007)
Hot Fuzz (2007)
Confetti (2006)
One day (2006)
Zemanovaload (2005)
<< back