View Full Site
Orlando Bloom Bio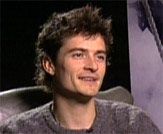 ORLANDO BLOOM
Date of Birth: January 13, 1977
This native to Canterbury, England was inspired joined the acting profession for the women. "Aged nine, I had this girlfriend, and we used to have running races in the park to see who would be her boyfriend for the day. I wanted to be like Superman and fly in and rescue her. Once I realised Superman was an actor, I thought, 'That's for me, mate.'"
Following a bit part on the television series, Casualty, at the age of nine, Bloom moved to London and joined the National Youth Theatre in his mid-teens. After two years of stage work, he earned a scholarship to train with the British American Drama Academy. During his time at Guildhall, Bloom performed in a number of productions including Little Me, A Month in the City, Mephisto, Twelfth Night, Trojan Women, The Seagull, Three Sisters, Uncle Vanya, A Night Out and Mystery Plays. From here he continued his training at the Guildhall School of Music and Drama, but not before landing a small role in his first feature film, Wilde (1997).
After completing his three-year course, he almost immediately landed the role of the Elf warrior Legolas in the fantasy epic, The Lord of the Rings: The Fellowship of the Ring. Although he had not auditioned for the part initially, he fell into the role, even shaving his head to properly fit the blond wig and wearing contacts to make his brown eyes appear blue. Following the gruelling year filming LOTR, Bloom found himself to be extremely in demand, filming roles in Black Hawk Down (2001), The Lord of the Rings: The Two Towers (2002), the Australian film Ned Kelly (2003) opposite Heath Ledger, and swung into action with Johnny Depp in Disney's action adventure Pirates of the Caribbean: The Curse of the Black Pearl (2003). Also in 2003, he completed the LOTR trilogy with Lord of the Rings: The Return of the King, which won the Best Picture Oscar.
Throughout the rest of the decade, he won parts in Troy (2004), Haven (2004), Kingdom of Heaven (2005), Elizabethtown (2005), Pirates of the Caribbean: Dead Man's Chest (2006), Pirates of the Caribbean: At World's End (2007), and New York, I Love You (2008).
In 2011, he worked on The Three Musketeers and in 2013, reprised his role of Legolas in The Hobbit: The Desolation of Smaug. He once again donned the blonde wig of Legolas in The Hobbit: The Battle of the Five Armies (2014).
Orlando's latest credit is Pirates of the Caribbean: Dead Men Tell No Tales (2017), in which he steps back into the role of Will Turner.
Bloom, a vegetarian, enjoys living on the edge, engaging in sports such as sky diving, bungee jumping, paragliding, surfing and snowboarding. He married Australian model Miranda Kerr in 2010 and their son, Flynn, was born January 6, 2011. The pair has since separated, and for 10 months between 2016 and 2017, Orlando dated pop star Katy Perry.
Filmography:
Pirates of the Caribbean: Dead Men Tell No Tales (2017)
Digging for Fire (2015)
The Hobbit: The Battle of the Five Armies (2014)
The Hobbit: The Desolation of Smaug (2013)
Zulu (2013)
The Three Musketeers (2011)
The Good Doctor (2011)
Main Street (2010)
Sympathy for Delicious (2010)
New York, I Love You (2009)
Pirates of the Caribbean: At World's End (2007)
Love and Other Disasters (2006)
Pirates of the Caribbean: Dead Man's Chest (2006)
Elizabethtown (2005)
Kingdom of Heaven (2005)
Haven (2004)
Troy (2004)
The Calcium Kid (2004)
The Lord of the Rings: The Return of the King (2003)
Pirates of the Caribbean: The Curse of the Black Pearl (2003)
Ned Kelly (2003)
The Lord of the Rings: The Two Towers (2002)
Black Hawk Down (2001)
The Lord of the Rings: The Fellowship of the Ring (2001)
Wilde (1997)
<< back