View Full Site
Oscar Isaac Bio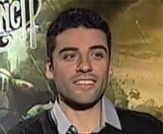 OSCAR ISAAC
Date of Birth: January 5, 1980
Born in Guatemala, Oscar Isaac was raised in Miami. His mother is from Guatemala and his father, a doctor, is from Cuba. After high school, Isaac stayed in Florida for a few years, earning an Associate Arts Degree from Miami-Dade Community College, as well as performing with his band, Blinking Underdogs and doing regional theater.
His first professional acting job was children's theater for Coconut Grove Playhouse. He also toured with his band, opening for Green Day and performing at venues such as L.A.'s Viper Room.
In New York in 2000 to do a play called Cocktail Time in Cuba, he decided to apply to the Drama Division of The Juilliard School and was accepted. Just before beginning there in 2001, he filmed a small role in the Florida-filmed comedy All About the Benjamins (2002), starring Ice Cube.
While at Juilliard he starred in the title role of Macbeth, co-wrote and performed his music in the show American Occupation and acted in The Marriage of Figaro, The Birds, Three Sisters and many others. He also attended Master Classes with such actors and Sir Ian McKellen, Fiona Shaw, Simon Russell Beale, Brenda Blethyn and Alfred Molina and was the recipient of the prestigious 2004 Grace Le Vine Theater Award.
Just weeks after graduating in May 2005, Isaac played Proteus in the musical revival of Two Gentlemen of Verona opposite Rosario Dawson for Shakespeare in the Park. He began his film acting career as a Russian gangster in The Half Life of Timofey Berezin (2006) starring Paddy Considine and Radha Mitchell. After seeing Isaac's performance, Steven Soderbergh, who was an executive producer on the film, cast him in his own feature, Guerrilla (2008), opposite Benecio del Toro.
Returning to the stage, Isaac starred as Federico Garci­a Lorca in Beauty of the Father by Pulitzer Prize-winning playwright Nilo Druz, which ran to February 19, 2006. He then landed his first starring film role as Joseph in The Nativity Story (2006), shot in Morocco and Italy, and co-starring Keisha Castle-Hughes.
Since then he has played supporting roles in Body of Lies (2008), starring Russell Crowe and Leonardo DiCaprio, Agora (2010), starring Rachel Weisz and again with Crowe in Robin Hood (2010). He's continued to score roles in big movies alongside major stars, including Madonna's 2011 film W.E.. He also landed a role in the fourth film of the Bourne franchise, The Bourne Legacy (2012) starring Jeremy Renner as well as the real-life drama Won't Back Down (2012) with Viola Davis and Maggie Gyllenhaal.
His most recent works include A Most Violent Year (2015), Ex Machina (2015), X-Men: Apocalypse (2016) and the historical drama The Promise (2017) with Christian Bale.
Isaac currently resides in New York.
Filmography:
Star Wars: The Last Jedi (2017)
The Promise (2017)
X-Men: Apocalypse (2016)
Ex Machina (2015)
A Most Violent Year (2015)
Star Wars: The Force Awakens (2015)
In Secret (2014)
Won't Back Down (2012)
The Bourne Legacy (2012)
Revenge for Jolly! (2012)
For Greater Glory: The True Story of Cristiada (2012)
W.E. (2011)
Drive (2011)
Sucker Punch (2011)
Robin Hood (2010)
Balibo (2009)
Agora (2009)
Body Of Lies (2008)
Che: Part One (2008)
The Life Before Her Eyes (2007)
The Nativity Story (2006)
Pu-239 (2006)
Lenny the Wonder Dog (2005)
All About the Benjamins (2002)
Illtown (1996)
<< back