View Full Site
Patrick Wilson Bio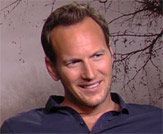 PATRICK WILSON
Date of Birth: July 3, 1973
Born in Norfolk, Virginia, Patrick Wilson grew up in St. Petersburg, Florida, where his father worked as a TV anchorman. Although he didn't study singing with his voice teacher mom, Patrick sang with the choir she directed when he was in his teens. Active in sports as well, singing came first for Patrick and he often missed games due to singing engagements. He went on to study at Carnegie Mellon University in Pittsburgh, winning the Charles Willard Award for Undergraduate Excellence in Music Theater before earning his B.F.A. in Drama.
He appeared in regional productions of Sweet Bird of Youth, Romeo and Juliet: The Musical and Lucky in the Rain; Off-Broadway in Bright Lights, Big City (for which he received a Drama Desk nomination and a Drama League Award) and in national touring company productions of Carousel (winning a Drama-Logue Award) and Miss Saigon. Patrick received another Drama League Award for his Broadway debut in Fascinating Rhythm and two Tony Award nominations for Leading Actor in a Musical for his starring roles in the Broadway productions of The Full Monty (2001) and Oklahoma (2002).
Wilson made his film acting debut in the low budget My Sister's Wedding (2001), followed by a role in the video release Dark Stories: Tales from Beyond the Grave (2001). He received nominations from both the Emmy awards and the Golden Globes for his supporting work as Joe Pitt in the acclaimed mini-series Angels in America (2003), directed by Mike Nichols and starring Al Pacino and Meryl Streep.
He then played William Travis in The Alamo (2004) starring Dennis Quaid and Billy Bob Thornton before landing the much-coveted role of Raoul in the movie version of the hit Broadway musical, Andrew Lloyd Webber's The Phantom of the Opera (2004). During filming, the playwright dubbed him "The Impossibly Perfect Patrick Wilson" because he not only sang and acted with expertise, but he performed most of his stunts himself as well.
Having conquered Broadway, Wilson is content to now be a part of the movie business. While living in a small apartment in New York, he missed the warm Floridian weather and open spaces that he grew up with, and feels much more content in Los Angeles. In 2005, he played the lead role as Jeff in the movie Hard Candy, about a man who meets a young teenage girl on the Internet. He also co-starred opposite Kate Winslet in the drama Little Children, for which he won a 2006 Young Hollywood Award. Wilson's more recent films include The Ledge (2011), Insidious (2011), The Conjuring (2013) and Insidious: Chapter 2 (2013). He most recently returned as renowned paranormal specialist Ed Warren alongside Vera Farmiga in the 2016 sequel The Conjuring 2 and as Rollie Smith in the biographical drama about McDonald's The Founder (2017).
Married in 2005, Wilson has two child with his wife, actress Dagmara Dominczyk.
<< back