View Full Site
Patton Oswalt Bio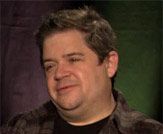 PATTON OSWALT
Date of Birth: January 27, 1969
Virginia native Patton Oswalt began his standup career in 1988 in Washington D.C. He subsequently moved to San Francisco in 1992, where he made his TV standup debut.
Oswalt's first acting gig, two years later, was playing a clerk on an episode of
Seinfeld
. In 1995 he moved to Los Angeles where he became a staff writer for
MAD TV
.
In 1999 Oswalt starred in his first HBO special on Comedy Central Presents, and followed that up in 2004 with Patton Oswalt: No Reason to Complain.
His movie debut was a small role in Down Periscope (1996), starring Kelsey Grammer, followed by supporting roles in films such as Magnolia (1999) starring Tom Cruise, Zoolander (2001) starring Ben Stiller, Calendar Girls (2003) starring Helen Mirren, Starsky & Hutch (2004) starring Owen Wilson and Failure to Launch (2006) starring Matthew McConaughey.
Oswalt has also provided voices for a number of animated television series, including Kim Possible, Batman Beyond, and Static Shock. In the major motion picture Ratatouille (2007), he voiced the lead role of Remy, a rat who wants to become a chef. He can more recently be seen alongside Steve Carell and Keira Knightley in the comedy film Seeking a Friend for the End of the World (2012).
His latest credits include The Secret Life of Walter Mitty (2013) with Ben Stiller, six episodes of the Emmy-winning series Veep (2015-16) and the sci-fi drama The Circle (2017) with Emma Watson and Tom Hanks.
On September 24, 2005, Oswalt married Michelle McNamara. Their daughter, Alice Rigney Oswalt, was born April 15, 2009.
His interests include Scotch, guns, books and dogs.
Filmography:
The Circle (2017)
Keeping Up with the Joneses (2016)
Nerdland (2016)
The Confirmation (2016)
Freaks of Nature (2015)
Jason Nash Is Married (2014)
The Secret Life of Walter Mitty (2013)
Odd Thomas (2013)
Seeking a Friend for the End of the World (2012)
Nature Calls (2012)
Young Adult (2011)
A Very Harold & Kumar 3D Christmas (2011)
The Informant! (2009)
Observe and Report (2009)
Big Fan (2009)
All Roads Lead Home (2008)
Balls of Fury (2007)
Ratatouille (2007)
Sex and Death 101 (2007)
Failure to Launch (2006)
Blade: Trinity (2004)
See This Movie (2004)
Starsky & Hutch (2004)
Calendar Girls (2003)
Zig Zag (2002)
Zoolander (2001)
Magnolia (1999)
Man on the Moon (1999)
<< back