View Full Site
Peter Dinklage Bio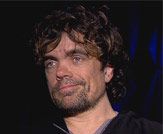 PETER DINKLAGE
Date of Birth: June 11, 1969
At 4'6" tall, Morristown, New Jersey native Peter Dinklage is the son of an elementary school music teacher and a retired insurance salesman. Both of his parents are normal height as is his older brother, John, a violinist. Despite his small stature, Peter was raised to believe he could do just about anything that other people could. He began acting in fifth grade, when he landed the lead role in a production of The Velveteen Rabbit. Peter went on to study liberal arts at Bennington College in Vermont, graduating in 1991 with a degree in drama.
After making his professional acting debut on stage, his screen debut was as a disgruntled actor in the 1995 indie film Living in Oblivion. Next came an uncredited role as a building manager in Bullet (1996), starring Mickey Rourke and Adrien Brody. He landed a role as a hit man in Safe Men (1998), starring Sam Rockwell and Mark Ruffalo, followed by the indie film Pigeonholed (1999), starring Patricia Arquette. He again worked with Patricia in Human Nature (2001), a screenplay written by Charlie Kaufman.
Peter had worked his way up to playing supporting roles in films such as 13 Moons (2002) with Steve Buscemi and Just A Kiss (2002) directed by Fisher Stevens and starring Marley Shelton, when he landed the title role in The Station Agent. Actually, the part had been written for him by writer/director Tom McCarthy, who'd cast him as Tom Thumb in an off-off-Broadway play called The Killing Act seven years earlier. McCarthy and Dinklage had remained friends ever since.
The film was well-received by critics and audiences alike, winning three awards at the Sundance Film Festival. Peter has since appeared in major motion pictures such as Elf (2003), The Baxter (2005) and Find Me Guilty (2006), but it was his role as Tyrion Lannister in the hit HBO series Game of Thrones that shot him to superstardom. He's won two Primetime Emmys and one Golden Globe for his work on the show.
Peter, who is a vegetarian, is married to theater director Erica Schmidt, with whom he has a daughter.
Filmography:
Three Billboards Outside Ebbing, Missouri (2017)
The Angry Birds Movie (2016)
The Boss / La patronne (2016)
Pixels (2015)
Taxi (2015)
The Angriest Man in Brooklyn (2014)
X-Men: Days of Future Past (2014)
Low Down (2014)
Knights of Badassdom (2013)
A Case of You (2013)
Ice Age: Continental Drift (2012)
A Little Bit of Heaven (2011)
Pete Small Is Dead (2010)
The Last Rites of Ransom Pride (2010)
I Love You Too (2010)
Death at a Funeral (2010)
Saint John of Las Vegas (2009)
The Chronicles of Narnia: Prince Caspian (2008)
Underdog (2007)
Death at a Funeral (2007)
Ascension Day (2007)
Penelope (2006)
Little Fugitive (2006)
Find Me Guilty (2006)
The Limbo Room (2006)
Fortunes (2005)
Lassie (2005)
Escape Artists (2005)
The Baxter (2005)
Surviving Eden (2004)
Elf (2003)
Tiptoes (2003)
The Station Agent (2003)
Just a Kiss (2002)
13 Moons (2002)
Human Nature (2001)
Never Again (2001)
Pigeonholed (1999)
Safe Men (1998)
Bullet (1996)
Living in Oblivion (1995)
Shadows and Fog (1991)
<< back