View Full Site
Rémy Girard Bio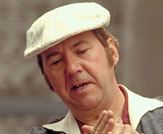 REMY GIRARD
Date of Birth: August 10, 1950
Rémy Girard is incredibly popular with the Quebec public. His natural charisma and instinctive sense of humour have contributed to making all of the characters he has portrayed engaging and unforgettable. Even in the role of Rémy, a blatantly unfaithful husband in The Decline of the American Empire, he succeeded in seducing the public with his warmth and fierce intelligence. In fact, you could be forgiven for thinking his name in the credits guarantees success: he figures prominently in six of the ten box-office champs of Quebec cinema!
Stimulated by his métier, Rémy Girard has never stopped working since he began acting in 1969 when he joined the Troupe des Treize theatre group at Laval University, where he was studying law. In his 30-year career, he has demonstrated incredible range in participating in countless television series, movies and plays. He has portrayed Mr. Laloge in Charles Binamé's Séraphin: Heart of Stone (2002); a clumsy hockey coach in The Boys I, II, III and IV; and a "liberated" man in Georges Mihalka's The Ideal Man in 1996. Girard has won many prizes for his work, including a Genie for Best Supporting Actor for his role in Jesus of Montreal in 1989 as well as numerous Geminis and Metro Stars awards throughout his career.
On stage, his performance as the repulsive yet hilarious John Falstaff in Les Joyeuses Commères de Windsor directed by Yves Desgagnés, earned critical praise. In 2003, 17 years after The Decline of the American Empire, Rémy Girard reprised his role for the universally acclaimed The Barbarian Invasions. His performance was so powerful the New York Times recognizes him as one of the world's leading actors. Is this the beginning of an American Invasion for Girard?
Filmography:
Young Triffie (2007)
The Rocket: The Story of Maurice Richard (2006)
Les Boys IV (2005)
Aurore (2005)
Monica la mitraille (2004)
The Barbarian Invasions (2003)
Seraphin – Heart of Stone (2002)
42-DD (2002)
Les Boys III (2001)
Les Boys II (1998)
Free Money (1998)
Le Violon rouge/The Red Violin (1998)
Les Boys (1997)
Le Siège de l'âme (1997)
Fish Tale Soup (1996)
The Ideal Man (1996)
Lilies - Les feluettes (1996)
Le Secret de Jérôme (1994)
La Florida (1993)
Amoureux fou (1991)
L'Empire des lumières (1991)
Montréal vu par... (1991)
Pagaille, La (1991)
Rafales (1990)
Dans le ventre du dragon (1989)
Jesus of Montreal (1989)
Le Chemin de Damas (1988)
Kalamazoo (1988)
Les Portes tournantes (1988)
Le Lys cassé (1987)
The Decline of the American Empire (1986)
Le Crime d'Ovide Plouffe (1984)
Les Yeux rouges (1982)
Les Beaux souvenirs (1981)

<< back