View Full Site
Rachel McAdams Bio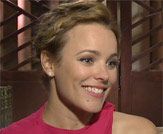 RACHEL MCADAMS (Photo Gallery)
Date of Birth: November 17, 1978
Rachel McAdams was born in St. Thomas, just a few miles south of London, Ontario. When she was four, she took up figure skating and competed throughout high school. However, she knew that she wanted to be an actor one day and attended summer theater camp as well as appearing in school plays. In 1995, she received an acting award for her role in the one-act high school play I Live in a Little Town when it was presented at the prestigious Ontario Showcase at the Sears Drama Festival. McAdams went on to study theater at York University in Toronto, where she appeared in numerous stage and student film productions. During her senior year, she played a child in The Piper, a workshop led by a creative team from Toronto's Necessary Angel Theatre Company.
Her first professional onscreen role came in 2001, playing a girl with bulimia in the Disney series The Famous Jett Jackson, filmed just outside of Toronto. Soon after, she landed a starring role in a pilot for MTV called Shotgun Love Dolls. She also made a guest appearance on Earth: Final Conflict and filmed a role in the TV movie Guilt by Association. McAdams made her film debut in the Canada/Italy co-production My Name is Tanino (2002). The same year, she played a role in the Canadian film Perfect Pie, for which she earned a Genie nomination for Best Supporting Actress.
McAdams decided to head to Los Angeles, where she quickly landed a co-starring role opposite Rob Schneider in the major studio comedy, The Hot Chick (2002). In 2003, she returned to Toronto to play a role in the six-part comedy TV series Slings and Arrows, starring Paul Gross. With her stage background, the show was right up her alley, as it focused on a Shakespearean Theater Festival. Still in Toronto, McAdams played one of the title characters in the Hollywood big budget film Mean Girls (2004), starring Lindsay Lohan. She returned to the States to co-star opposite fellow Canadian Ryan Gosling in the feature film The Notebook (2004), about two young people in love who have to make choices.
McAdams has starred with a variety of high-profile actors including Owen Wilson and Vince Vaughn in Wedding Crashers (2005), Dermot Mulroney in The Family Stone (2005), Pierce Brosnan in Married Life (2008), Harrison Ford in Morning Glory (2010), Robert Downey Jr. and Jude Law in Sherlock Holmes: A Game of Shadows (2011), and Channing Tatum in The Vow (2012). She also made an appearance in About Time (2013), in which she stars alongside Domhnall Gleeson. Most recently, she starred in Aloha (2015) alongside Bradley Cooper, in Spotlight (2015), which earned her an Academy Award nomination, and in the Marvel superhero adventure Doctor Strange (2016) alongside Benedict Cumberbatch.
McAdams dated her The Notebook (2004) star Gosling until 2007, when they called it quits. They reunited in August 2008, but by November of that year, the relationship was over.
Filmography:
Marvel's Doctor Strange (2016)
Spotlight (2015)
Aloha (2015)
The Little Prince (2015)
Southpaw (2015)
True Detective: Season 2 (HBO) (2015)
Everything Will Be Fine (2014)
A Most Wanted Man (2014)
About Time (2013)
Passion (2013)
To the Wonder (2013)
The Vow (2012)
Sherlock Holmes: A Game of Shadows (2011)
Midnight in Paris (2011)
Morning Glory (2010)
Sherlock Holmes (2009)
The Time Traveler's Wife (2009)
State of Play (2009)
The Lucky Ones (2008)
Married Life (2007)
The Family Stone (2005)
Red Eye (2005)
Wedding Crashers (2005)
The Notebook (2004)
Mean Girls (2004)
The Hot Chick (2002)
Perfect Pie (2002)
My Name Is Tanino (2002)
<< back