View Full Site
Ralph Fiennes Bio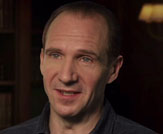 RALPH FIENNES
Date of Birth: December 22, 1962
How can one man be so despicable in Schindler's List and so debonair in The English Patient? A seemingly inborn ability to delve into the strengths and (many) weaknesses of each character he plays has made Ralph Fiennes one of the most mesmerizing and versatile performers on the screen today.
Hailing from Suffolk, England, Ralph Fiennes (pronounced Rafe Fines, by the way) developed his stagecraft with England's National Theatre and the Royal Shakespeare Company. His impressive work led to a role in the British TV series Prime Suspect which, in turn, put him in demand for film work. His first two film roles in Wuthering Heights (as Heathcliff) and The Baby of Macon were pretty much overlooked.
But there was no tearing your eyes away from Fiennes in his next film. Steven Spielberg's harrowing Holocaust epic, Schindler's List, cast Fiennes as sadistic concentration camp commandant Amon Goeth. His portrayal of evil personified was so convincing that when Spielberg introduced the fully costumed actor to a genuine Holocaust survivor, she was stricken with terror. The film won an Oscar for Best picture and garnered Fiennes a Supporting Actor nomination, as well as a BAFTA Film Award.
Fiennes further explored morally flawed antiheroes in Robert Redford's Quiz Show and the futuristic Strange Days. Perhaps his most complex creation has been Count Lazlo Almasy of The English Patient, another Oscar-winning Best Picture to supply Fiennes with a Best Actor nomination, as well as a second BAFTA Film nomination.
Between films, Fiennes continues to work in theater, earning a Tony award for his performance as Hamlet on Broadway, and winning kudos for the London production of Chekhov's Ivanov.
Fiennes received his third BAFTA Film Award nomination for his starring role in The End of the Affair (1999). He did a complete about face by accepting the romantic lead role in the lightweight romantic comedy Maid in Manhattan (2002), starring opposite Jennifer Lopez. He even received a Teen Choice Award nomination for Choice Movie Liplock. But Fiennes went on to receive the role of a lifetime when he was chosen to play the evil Lord Voldemort in the fourth installment of the Harry Potter films, The Goblet of Fire (2005). The same year, he won a British Independent Film Award as Best Actor for The Constant Gardener. He has since reprised the role of Lord Voldemort in Harry Potter and the Order of the Phoenix (2007), Harry Potter and the Half-Blood Prince (2009), Harry Potter and the Deathly Hallows: Part 1 and Harry Potter and the Deathly Hallows: Part 2 (2011). Fiennes also played in several big blockbusters in 2012: Wrath of the Titans, Coriolanus, and the Bond movie Skyfall.
Most recently, he starred in the Bond film Spectre (2015), alongside Tilda Swinton in A Bigger Splash (2015), the Coen brothers' Hail, Caesar! (2016), and lent his voice to Kubo and the Two Strings (2016) and The Lego Batman Movie (2017).
Though Ralph married actress Alex Kingston in 1993, they obtained a divorce in October 1997.
Filmography:
Holmes and Watson (2018)
The Lego Batman Movie (2017)
Hail, Caesar! (2016)
A Bigger Splash (2016)
Spectre (2015)
Mesyats v derevne (2014)
The Invisible Woman (2013)
Skyfall (2012)
Great Expectations (2012)
Wrath of the Titans (2012)
Harry Potter and the Deathly Hallows: Part 2 (2011)
Coriolanus (2011)
Harry Potter and the Deathly Hallows: Part 1 (2010)
Cemetery Junction (2010)
Clash of the Titans (2010)
Nanny McPhee and the Big Bang (2010)
The Reader (2008)
The Hurt Locker (2008)
The Duchess (2008)
In Bruges (2008)
Harry Potter and the Order of the Phoenix (2007)
Bernard and Doris (2006)
Land of the Blind (2006)
Harry Potter and the Goblet of Fire (2005)
The White Countess (2005)
The Constant Gardener (2005)
Chromophobia (2005)
The Chumscrubber (2005)
Maid in Manhattan (2002)
Red Dragon (2002)
Spider (2002)
The End of the Affair (1999)
Onegin (1999)
Sunshine (1999)
The Prince of Egypt (1998)
The Avengers (1998)
Oscar and Lucinda (1997)
The English Patient (1996)
Strange Days (1995)
Quiz Show (1994)
Schindler's List (1993)
The Baby of Mâcon(1993)
Wuthering Heights (1992)
<< back