View Full Site
Rebecca Ferguson Bio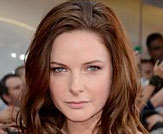 REBECCA FERGUSON
Date of Birth: October 19, 1983
Rebecca Louisa Ferguson Sundström grew up in the Vasastaden district in Stockholm, Sweden, with three siblings. Her father is Swedish, but her mother, Rosemary, was born in Britain but moved to Sweden at the age of 25. Rosemary is also related to Sarah Ferguson, Britain's Duchess of York.
Rebecca was raised to speak both English and Swedish and attended Adolf Fredrik's Music School in Stockholm, graduating in 1999.
From the age of 13, Rebecca has worked as a model in magazines and commercials. Just before she turned 16, she broke into acting with a role as upper-class teen Anna Gripenhielm on the soap opera Nya Tider. Roles were sporadic: she played a role on the Swedish/American TV co-production Ocean Ave. in 2002, filmed in Florida, followed by the 2004 film Drowning Ghost (original title: Strandvaskaren). Four years later she played a guest role on the TV series Wallander. It wasn't until 2011 that she had a starring role in a film with A One-Way Trip to Antibes (original title: En enkel till Antibes). She received a nomination for the Rising Star Award at the Stockholm Film Festival for her work in the film.
After Rebecca portrayed Queen Elizabeth Woodville in the 2013 TV mini-series The White Queen, her career finally took off, especially when she received a Golden Globe nomination for her role.
Tom Cruise saw her performance in the mini-series, and recommended she be tested to play his leading lady, Ilsa Faust, in the 2015 film Mission: Impossible – Rogue Nation. Rebecca was filming the TV mini-series The Red Tent in Morocco, but went to London to do a casting tape for Mission: Impossible, thinking she would never get the role. She returned to Morocco and was filming a scene in which she rides a camel called Barbie, when she received word that Tom Cruise and director Chris McQuarrie wanted to meet her in London the next day.
She dutifully returned and needless to say, Tom and Chris must have loved her, because she landed the role. For the movie, Rebecca went through vigorous training consisting of six hours per day for six weeks in order to perform many of her own stunts. Her performance was highly praised and she will be reprising her role in the sixth Mission: Impossible film. She was also named one of Variety's 10 Actors to Watch in 2015.
Besides acting, Rebecca is also a dancer, having trained in ballet, tap, jazz and street from an early age. She taught Argentinian tango to beginners at a dance company in Lund, Sweden for a few years. She has a son named Isac, who was born in 2007, with her ex-boyfriend Ludwig Hallberg, but the couple separated in April 2015.
Rebecca currently lives in the fishing village of Simrishamn on the Swedish south coast, in a windmill in the middle of an orchard. She played supporting roles in the 2016 feature films Florence Foster Jenkins and The Girl on the Train, and will appear in the upcoming 2017 films The Snowman and Life.
Her hobbies include yoga, wind/kite surfing, horseback riding and scuba diving.
Photo © wenn.com/KEYSTONE Press
Filmography:
Life (2017)
The Snowman (2017)
The Girl on the Train (2016)
Florence Foster Jenkins (2016)
Despite the Falling Snow (2016)
Mission: Impossible – Rogue Nation (2015)
Hercules (2014)
Cold Night (2013)
Vi (2012)
A One-Way Trip to Antibes/En enkel till Antibes (2011)
Drowning Ghost/Strandvaskaren (2004)
<< back