View Full Site
Renée Zellweger Bio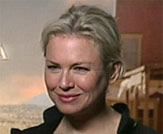 RENEE ZELLWEGER
Date Of Birth: April 25, 1969
Call her "Zelly"—her friends do. Also call her beautiful, talented and lucky. How lucky? Let her explain: "I feel so damn lucky, I can't even tell you," she says. "To be able to do what I love and get by!"
Well, she does a little more than just get by. In fact, she rocketed to the top of the Hollywood food chain when she beat out Patricia Arquette, Cameron Diaz, Bridget Fonda, Winona Ryder, Mira Sorvino, and Marisa Tomei for the role of single mother opposite Tom Cruise in Jerry Maguire. After winning that role, she said: "Tom Cruise knows I'm in the world. That's enough."
But she didn't really mean that because the Katy, Texas, native is really just getting started ... and she's getting started in a big way, especially when you consider that the town she grew up in wasn't big enough to warrant its own movie theatre until 1987 and Zellweger only signed up for a drama class at the University of Texas because she needed the credit to complete her degree. But the acting bug hit hard and she began performing in student plays and with local theatre groups before declaring herself camera ready and hitting the audition trail.
The story of how she came to be in the same room with Tom Cruise when the role of his girlfriend in Jerry Maguire was being cast begins on the set of Texas Chainsaw Massacre: The Next Generation (shot in 1993, released in 1997) where Matthew McConaughey showed her a script for his next project, Love and a .45. (She auditioned for the lead and won the role while he dropped out of he project.) That film got her good reviews which prompted her move to Los Angeles where she got her role in The Whole Wide World after Olivia d'Abo became pregnant. More good press followed for that film which Jerry Maguire director Cameron Crowe saw and decided he'd found his Tom Cruise love interest, Presto. Suddenly Zellweger became famous. But, as she says, "I never thought about being famous. That's all mythical."
After filming Me, Myself and Irene, Zellweger started to date co-star funny man Jim Carrey. Although there was talk of marriage, the couple broke off their relationship soon before the 2001 Golden Globes, where she won Best Actress in a comedy for her work on Nurse Betty. The following year she starred as a chubby British Londoner in the film adaptation of the popular book Bridget Jones's Diary, which took England by storm, while at the same time earned her BAFTA and Academy Award nominations for Best Actress.
For her role in the musical movie Chicago, Zellweger, who had no previous dance or voice training, studied hard for 10 months to get ready for her role as Roxie Hart, an aspiring performer. Her hard work paid off when she won her second Golden Globe and was again nominated for a Leading Actress Oscar as well as another BAFTA award. Her next film, the 60's styled romantic comedy Down with Love (2003) bombed at the box office, but she again won acclaim when she starred opposite Nicole Kidman in the period piece Cold Mountain (2003), winning her third Golden Globe award for her role as a spirited country girl. She also received her third Oscar nomination and her first Oscar win for her supporting performance.
Renée agreed to again gain weight to return to the role of Bridget Jones in the sequel Bridget Jones: The Edge of Reason (2004), earning $15 million for the role, her biggest paycheck yet. She followed this up with roles in Cinderella Man (2005), Miss Potter (2006), Leatherheads (2008), Monsters vs. Aliens (2009), and My Own Love Song (2010).
In 2016, Zellweger again reprised her role as Bridget Jones in the third installment of the franchise,
Bridget Jones's Baby
, but luckily, this time around Bridget has lost her baby fat. That same year she also starred alongside Keanu Reeves in the crime drama
The Whole Truth
.
On the personal side, In 2005, Renée received a star on the Hollywood Walk of Fame and met and married country superstar Kenny Chesney. Unfortunately, the marriage quickly fell apart and was annulled by the year's end. She then dated Bradley Cooper for two years, from 2009 to 2011. Since 2012, she has been in a relationship with blues musician Doyle Bramhall II.
Filmography:
Same Kind of Different As Me (2017)
The Whole Truth (2016)
Bridget Jones's Baby (2016)
Case 39 (2010)
My One and Only (2009)
New in Town (2009)
Appaloosa (2008)
Leatherheads (2008)
Bee Movie (2007)
Miss Potter (2007)
The Cinderella Man (2005)
Bridget Jones: The Edge Of Reason (2004)
Shark Tale (2004)
Cold Mountain (2003)
Down With Love (2003)
Chicago (2002)
White Oleander (2002)
Bridget Jones's Diary (2001)
Nurse Betty (2000)
Me Myself & Irene (2000)
The Bachelor (1999)
One True Thing (1998)
Sonia Horowitz (1998)
Jerry Maguire (1996)
The Whole Wide World (1996)
Empire Records (1995)
The Low Life (1994)
Reality Bites (1994)
8 Seconds (1994)
My Boyfriend's Back (1993)
<< back