View Full Site
Richard E. Grant Bio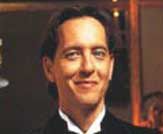 RICHARD E. GRANT
Date of Birth: May 5, 1957
Known to play upper-class eccentric English characters, Grant was surprisingly not born in England, but in the small country of Swaziland in South Africa. When he was just 11, his father, a Minister of Education, and mother divorced. He attended Waterford boarding school as a child and was bitten by the acting bug at an early age, inspired by the work of Barbra Streisand.
Intent on a career in acting, Grant studied drama at Cape Town University where he co-founded a multi-racial ensemble called the Troupe Theatre Company. Over the next two years, Grant acted in and directed a number of the company's productions.
When Grant was 24, his father, a heavy smoker, died of lung cancer and a year later the aspiring actor left South Africa to seek his fortunes in England. His first five years in London were difficult, but eventually he found work in various productions. In 1984 he was nominated as Most Promising Newcomer for his performance in Tramway Road at the Lyric Theatre, Hammersmith.
It was during his hardest times that he met his future wife, Joan Washington. A top dialect coach, Washington is widely credited with Grant's well spoken English. Married in 1984, the couple suffered a tragedy when their first child, Tiffany, died shortly after her birth. Washington gave birth to another daughter, Olivia, who thankfully was healthy (the couple also have a son, Tom, from Washington's previous marriage.)
Grant's first film was an award-winning TV production called Honest, Decent and True, and this led to his audition for Withnail and I. The cult, and financial, success of Withnail and I caught Hollywood's attention and gave the actor the big break he needed.
Grant subsequently earned recognition on both sides of the Atlantic, thanks to a number of diverse and often peculiar roles in films of widely varying quality. Particularly memorable during the early to mid-'90s were roles as Anais Nin's well-intentioned but dull husband in Henry and June (1990), the evil billionaire Darwin Mayflower in the spectacularly disappointing Hudson Hawk (1991), and a high society lounge lizard Larry Lefferts in Martin Scorsese's The Age of Innocence (1993).
Grant follows a strict lifestyle. He doesn't drink alcohol (he's allergic to it), tea or coffee and he doesn't smoke or eat dairy products.
Despite his eccentric persona, Grant has time and again proven himself more than capable of handling the straight man roles, as he demonstrated in such films as Jack and Sarah (1995), in which he played a grieving widower; The Portrait of a Lady (1996), in which he had a small but memorable role as one of Isabel Archer's most ardent suitors; and the made-for-TV The Scarlet Pimpernel (1999), which cast him as its titular hero. In 2002, along with the rest of the cast of Gosford Park (2001), he won a Screen Actors Guild award for Outstanding Performance by the Cast of a Theatrical Motion Picture.
In 2002, Richard appeared in the TV movie Sherlock alongside James D'Arcy and in 2003, the comedy series Posh Nosh with Joanna Lumley. Also in 2003, he acted in Stephen Fry's comedy Bright Young Things with Emily Mortimer and Dan Aykroyd.
The remainder of the 2000s saw Richard work in Tim's Burton's Oscar-nominated animated film Corpse Bride (2005) with Johnny Depp and Helena Bonham Carter, the comedy Color Me Kubrick (2005) with John Malkovich, the romcom Penelope (2006) with Christina Ricci and James McAvoy, and the romcom Love Hurts (2009) with Carrie-Anne Moss.
In 2011, he worked with Toni Collette on the family film Foster, as well as the Oscar-winning Margaret Thatcher biopic The Iron Lady with Meryl Streep. Two years later, he worked with Jude Law on the comedy Don Hemingway. In 2014, he portrayed Simon Bricker on the highly popular Golden Globe-winning period drama Downton Abbey. He acted in four episodes of the show.
Richard's latest credits include the drama series Dig (2015) with Jason Isaacs and Anne Heche, the series Jekyll & Hyde (2015), three 2016 episodes of Game of Thrones, the Oscar-nominated Jacqueline Kennedy biopic Jackie (2016) with Natalie Portman, and the action drama Logan (2017) with Hugh Jackman.
Filmography:
Logan (2017)
Their Finest (2016)
Jackie (2016)
Queen & Country (2014)
Dom Hemingway (2013)
The Iron Lady (2011)
How to Stop Being a Loser (2011)
Foster (2011)
The Last Fashion Show (2011) (2015)
Love Hurts (2009)
Cuckoo (2009)
The Garden of Eden (2008)
Filth and Wisdom (2008)
Nutcracker: The Untold Story (2008)
The Garden of Eden (2008)
Jackboots on Whitehall (2008) (voice)
Always Crashing in the Same Car (2007)
Penelope (2007)
Garfield: A Tail of Two Kitties (2006) (voice)
Colour Me Kubrick (2005)
Corpse Bride (2005) (voice)
The Story of an African FArm (2004)
Tooth (2004)
Bright Young Things (2003)
Monsieur N. (2003)
Gosford Park (2001)
The Little Vampire (2000)
The Match (1999)
Cash In Hand (1998)
Food of Love (1997)
Spice World (1997)
Keep the Aspidistra Flying (1997)
The Serpent's Kiss (1997)
The Portrait of a Lady (1996)
Twelfth Night: Or What You Will (1996)
Jack and Sarah (1995)
Prêt-à-Porter (1994)
In the Cold Light of Day (1994)
The Age of Innocence (1993)
Calliope (1993) .... the Producer
Franz Kafka's It's a Wonderful Life (1993)
Bram Stoker's Dracula (1992)
The Player (1992)
Hudson Hawk (1991)
L.A. Story (1991)
Henry & June (1990)
Mountains of the Moon (1990)
How to Get Ahead in Advertising (1989)
Killing Dad (1989)
Warlock (1989)
Hidden City (1988)
Withnail and I (1987)
<< back