View Full Site
Rob Riggle Bio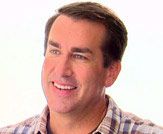 ROB RIGGLE
Date of Birth: April 21, 1970
Born in Louisville, Kentucky and raised in Overland Park, Kansas, Rob Riggle joined the Marine Corps at the age of 19 in 1990. He rose through the ranks, serving in a variety of countries such as Albania, Liberia, and Afghanistan. While still on active duty with the Marine Corps, he began his comedy career in 1997 in New York City.
He studied at Upright Citizens Brigade and eventually went on to teach classes. When he earned a spot on Saturday Night Live, it was the fulfillment of one of his lifelong dreams.
From there, he garnered roles in big screen comedies such as Talladega Nights: The Ballad of Ricky Bobby, Step Brothers and The Other Guys. In The Hangover, he played Officer Franklin, one of the cops who gets his vengeance on the groomsmen after they steal his patrol car. He also put in a four-year stint as a correspondent on the multiple Emmy Award-winning show The Daily Show with Jon Stewart and appeared in the big screen drama Larry Crowne opposite Tom Hanks and Julia Roberts.
He provided the the voice of the misguided yet charismatic villain, O'Hare, in the animated film Dr. Seuss's The Lorax, as well as playing Mr. Walters in the comedy 21 Jump Street, based on the beloved TV series of the same name. More recently, he starred in Dumb and Dumber To (2014), Middle School: The Worst Years of My Life (2016), How to Be a Latin Lover (2017) and lent his voice to The Emoji Movie (2017).
Rob, who was promoted to Lieutenant Colonel in April 2009, is still a member of the Marine Corps Reserves. He has served 22 years total—nine years active duty and 13 years in the reserves.
In addition to serving with the Marine Corp and having a successful comedy career, Rob has a a B.A. in Theater & Film and a Masters in Public Administration from the University of Kansas. He lives in Los Angeles with his wife and two children.
Filmography:
The Emoji Movie (2017)
How to Be a Latin Lover (2017)
Middle School: The Worst Years of My Life (2016)
Dumb and Dumber To (2014)
Let's Be Cops (2014)
21 Jump Street (2012)
High Road (2012)
Dr. Seuss' The Lorax (2012)
Big Miracle (2012)
Larry Crowne (2011)
Going the Distance (2010)
The Other Guys (2010)
Killers (2010)
May the Best Man Win (2009)
The Goods: Live Hard, Sell Hard (2009)
The Hangover (2009)
Step Brothers (2008)
Unaccompanied Minors (2006)
Blackballed: The Bobby Dukes Story (2004)
Pushing Tom (2003)
<< back