View Full Site
Robert De Niro Bio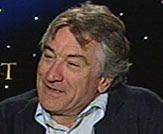 ROBERT DE NIRO
Date of Birth: August 17, 1943
Born to a family of artists, Robert De Niro Jr. was a shy child who preferred paperbacks to playmates. He was able to overcome his timidity at age ten for his first stage role: the cowardly lion in The Wizard of Oz. Most of his time in his early teen years were spent on the streets, hanging out with a small-time gang. Acting eventually called him back, and his first paycheck came at sixteen with a touring performance in Chekhov's The Bear. From there, De Niro began a fifteen-year tour through dinner theaters and off-Broadway stages. Like most successful actors of the era, he studied with Stella Adler and Lee Strasberg, the chief proponents of Method acting.
De Niro's first feature, The Wedding Party, is notable only because of his participation and that of director Brian De Palma. Shot in 1963, it was not released until 1969, and went unnoticed. His next two films were also with De Palma -- Greetings and Hi, Mom! were satires looking at sex, the draft, and the counterculture. But it wasn't until 1973 that De Niro really began turning heads in Hollywood. His portrayal of dying baseball player Bruce Pearson in Bang the Drum Slowly won him the New York Film Critics award for Best Actor.
The same year, De Niro appeared in Martin Scorsese's Mean Streets, beginning a longtime collaboration that has spawned films such as Taxi Driver, Raging Bull, and GoodFellas. In 1974, Francis Ford Coppola's The Godfather, Part II turned De Niro into a superstar. His role as the young Vito Corleone won him the Best Supporting Actor Oscar: his portrayal of the young Godfather cemented his reputation as the next Marlon Brando. He demonstrated his dedication to his craft by gaining 60 pounds to play aging boxer Jake La Motta in Raging Bull, for which he won the Best Actor Oscar.
Some of De Niro's mid-'90s work put a series of chinks in his iron method. Roles in films like We're No Angels and Mary Shelley's Frankenstein made critics question his motivation, and a popular theory was that it was an attempt to raise funds for his Tribeca Film Center, a company dedicated to promoting New York film production. Such failures have been overshadowed to some degree by more recent successes: Heat and Casino (both 1995) confirmed that De Niro can still climb into the skin of assorted unsavories better than anyone; Sleepers and Marvin's Room (both 1996) illustrated his equal facility at playing kinder, gentler characters; and Jackie Brown and Wag the Dog (both 1997) gave full reign to his quirkier side.
Though his 1998 vehicles—Great Expectations and Ronin—Analyze This. His success as a comedic straight man landed him a role in the hilarious hit comedy Meet the Parents (2000), for which he received his eighth Golden Globe nomination. He also won a 2001 MTV Movie Award for Best Line from a Movie ("Are you a pothead, Focker?")
De Niro played roles in two 2002 box office flops—City by the Sea and Showtime. He even shared a Razzie nomination with Eddie Murphy as Worst Screen Couple for the latter film.
However, he remains as in demand as ever, continuing to work in a variety of films, such as the comedy sequels Analyze That (2003), Meet the Fockers (2004) and Little Fockers (2010), as well as more serious fare such as Godsend (2004), Hide and Seek (2004) and Everybody's Fine (2009). And the actor has certainly been keeping busy. In 2011, he starred in New Year's Eve, Limitless and Killer Elite. Someof his 2012 titles include Being Flynn, Corman's World: Exploits of a Hollywood Rebel, and Red Lights. For his work in Silver Linings Playbook, he received his seventh Academy Award nomination. He most recently starred in The Intern (2015) alongside Anne Hathaway. He also starred alongside Zac Efron in the comedy Dirty Grandpa (2016) and Leslie Mann in The Comedian (2017).
De Niro is divorced from his first wife, Diahnne Abbott, with whom he has a son. He also has twin sons from a past relationship and a son with current wife, Grace Hightower. They also welcome a baby girl in December 2011, born through a surrogate. In 2003, he received a Lifetime Achievement Award from the American Film Institute.
Filmography:
The Comedian (2017)
Dirty Grandpa (2016)
Heist (2015)
The Intern (2015)
Joy (2015)
The Bag Man (2014) The Family (2013)
Last Vegas (2013)
Malavita 2013)
Motel (2013)
Killing Season (2013)
The Big Wedding (2013)
Silver Linings Playbook (2012)
Freelancers (2012)
Red Lights (2012)
Limitless (2011)
Little Fockers (2010)
Machete (2010)
Everybody's Fine (2009)
What Just Happened (2008)
Stardust (2007)
The Good Shepherd (2006)
Hide and Seek (2005)
Meet the Fockers (2004)
City by the Sea (2002)
15 Minutes (2001)
Meet the Parents (2000)
Men of Honor (2000)
Analyze This (1999)
Great Expectations (1998)
Wag the Dog (1997)
Marvin's Room (1996)
Casino (1995)
Frankenstein (1994)
A Bronx Tale (1993)
Night and the City (1992)
Backdraft (1991)
Awakenings (1990)
We're No Angels (1989)
Midnight Run (1988)
The Untouchables (1987)
The Mission (1986)
Brazil (1985)
Falling in Love (1984)
The King of Comedy (1983)
Raging Bull (1980)
The Deer Hunter (1978)
New York, New York (1977)
Taxi Driver (1976)
The Godfather: Part II (1974)
Mean Streets (1973)
The Gang That Couldn't Shoot Straight (1971)
Hi, Mom! (1970)
The Wedding Party (1969)
Greetings (1968)
<< back