View Full Site
Ron Livingston Bio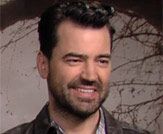 RON LIVINGSTON
Date of Birth: June 5, 1968
Born and raised in Iowa, Ron Livingston earned his BA in Theatre Studies and English Literature from Yale University. While at school, he performed in the Williamston Theatre Festival. After graduating, he moved to Chicago where he landed roles in a number of theater productions.
In 1992, he made his film debut playing a soldier in Straight Talk, starring Dolly Parton and James Woods. He next appeared in a short, Some Folks Call It a Sling Blade (1994), written by and starring Billy Bob Thornton (In 1996 Thornton turned it into a full length feature called Sling Blade). Livingston then played Chad in The Low Life (1995), opposite Kyra Sedgwick and Sean Astin.
The following year he landed a recurring role in the CBS sitcom, Townies (also starring Lauren Graham, who went on to fame in Gilmore Girls). Although the show lasted just one season, he soon won a regular role on another sitcom, That's Life. It didn't last long either, but Livingston kept working. He appeared in Dill Scallion (1999), working again with Graham. In Office Space (1999), he starred opposite Jennifer Aniston. More movies followed, as well as the mini-series Band of Brothers (2001), for which Livingston received a Golden Globe nomination.
From 2001 to 2002, he played Assistant District Attorney Alan Lowe on the hit ABC drama series The Practice. He has appeared in several major motion pictures since then, including Adaptation (2002) alongside Nicolas Cage and Meryl Streep, The Cooler (2003) with William H. Macy and Alec Baldwin, the romantic comedy Little Black Book (2004) playing Brittany Murphy's boyfriend, The Time Traveler's Wife (2009) opposite Eric Bana and Rachel McAdams, Disney's The Odd Life of Timothy Green (2012) and, recently, The Conjuring (2013). His most recent film is Drinking Buddies (2013) where she stars alongside Olivia Wilde, Anna Kendrick and Jake Johnson.
Livingston lives in Los Angeles and on November 2, 2009, married Rosemarie DeWitt. In May 2013, they welcomed a daughter into their family via adoption.
<< back