View Full Site
Ron Perlman Bio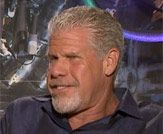 RON PERLMAN
Birth Name: Ronald Francis Perlman
Date of Birth: April 13, 1950
Born in New York, Ron Perlman grew up in the Washington Heights section of New York City, where his father was a radio/TV repairman and his mother an employee with the city's Department of Health. Ron was very active in high school theater in part because of his height (6'2") and his deep voice. He performed the lead in the play Thieves' Carnival.
After graduating from NYC's Lehman College in 1971 with a Bachelor of Fine Arts Degree in Theater, Ron studied at the University of Minnesota from the fall of 1971 to spring of 1973.
He went to work with New York's Classic Stage Company, an organization specializing in Elizabethan and Restoration plays. Perlman starred in several Manhattan and touring productions staged by Tom O'Horgan, as well as playing the recurring role of Bernie Marx on the soap opera Ryan's Hope before accepting his first film role as a neanderthal in 1981's Quest for Fire.
Despite the success of the film, Ron backed off from the film industry for a few years before returning in 1984 to film a low budget sci-fi comedy, The Ice Pirates, and to play the hunchbacked Salvatore in The Name of the Rose (1986), starring Sean Connery and Christian Slater.
Since then, Ron has been cast in a number of films, including Disney's The Adventures of Huck Finn, The Island of Dr. Moreau, Cronos, The City of Lost Children, Alien: Resurrection and most recently, Guillermo del Toro's sci-fi blockbuster Pacific Rim. He has also lent his voice to several projects, including the sci-fi flick Titan A.E., the animated adventures The Book of Life (2014), and Howard Lovecraft & the Frozen Kingdom (2016). Ron can most recently be seen in the drama Stonewall (2015), the sports drama The Bleeder (2016), and the Harry Potter spin off Fantastic Beasts and Where to Find Them (2016).
Ron's television credits include a starring role in the Western saga, The Magnificent Seven, as well as a lead role in the HBO political satire, The Second Civil War. He also won two Emmy nominations and a Golden Globe award for his performance as the ugly, cat-like Vincent in the popular television series Beauty and the Beast, co-starring Linda Hamilton. He has since appeared in the short-lived reboot series The Teenage Mutant Ninja Turtles (2015-2016), and the comedy series Maron.
Perlman is married to fashion designer Opal Stone, and the couple have a daughter, Blake Amanda, and a son, Brandon Avery. They now live in Los Angeles, California, but also keep a home in New York City. When not on set, Perlman spends time with his family, plays golf, pool, jazz and does a bit of standup comedy.
Filmography:
Fantastic Beasts and Where to Find Them (2016)
Howard Lovecraft & the Frozen Kingdom (2016)
The Bleeder (2016)
Stonewall (2015)
Moonwalkers (2015)
Dermaphoria (2015)
Poker Night (2014)
The Book of Life (2014)
Justice League: The Flashpoint Paradox (2013)
Pacific Rim
Season of the Witch (2011)
Bunraku (2010)
Tangled (2010)
Acts of Violence (2010)
The Legend of Secret Pass (2010) (voice)
Killer by Nature (2010)
Dark Country (2009)
The Job (2009)
The Devil's Tomb (2009)
Hellboy II: The Golden Army (2008)
I Sell the Dead (2008)
Spirit of the Forest (2008) (voice)
Mutant Chronicles (2008)
Outlander (2008)
Uncross the Stars (2008)
Battle for Terra (2007) (voice)
In the Name of the King: A Dungeon Siege Tale (2007)
5ive Girls (2006)
The Last Winter (2006)
How to Go Out on a Date in Queens (2006)
Local Color (2006)
Missing in America (2005)
The Second Front (2005)
Quiet Kill (2004)
The Woodcutter (2004) Hellboy (2004)
Looney Tunes: Back in Action (2003)
Hoodlum & Sons (2003)
Absolon (2003)
Killer Rats (2003)
Boys on the Run (2003)
Two Soldiers (2002) Star Trek: Nemesis (2002)
Blade II (2002)
Crime and Punishment (2002)
Night Class (2001)
Down (2001)
Ennemy at the Gates (2001)
Stroke (2000)
The King's Guard (2000)
Titan A.E. (2000) (voice)
Bread and Roses (2000) (uncredited)
Price of Glory (2000)
Happy, Texas (1999)
Conway (1998)
I Woke Up Early the Day I Died (1998)
Frogs for Snakes (1998)
Betty (1997)
Tinseltown (1997)
Alien: Resurrection (1997)
Prince Valiant (1997)
The Island of Dr. Moreau (1996)
The Last Supper (1995)
Fluke (1995)
The City of Lost Children (1995)
Sensation (1994)
Police Academy: Mission to Moscow (1994)
When the Bough Breaks (1994)
The Adventures of Huck Finn (1993)
Romeo Is Bleeding (1993)
Cronos (1993)
Double Exposure (1993)
Sleepwalkers (1992)
The Name of the Rose (1986)
The Ice Pirates (1984)
<< back