View Full Site
Rosario Dawson Bio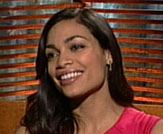 ROSARIO DAWSON
Date of Birth: May 9, 1979
Born in New York, Dawson was discovered while hanging out on the stoop in front of her New York City building. Filmmaker Larry Clark was making the independent film Kids when he was immediately captivated by her and urged her to audition. Dawson did, and landed the role of troubled Ruby.
Her work led her to more roles in other independent films, Side Streets, and Girls Night Out. Indies led to big budget films and in 1998 she landed a supporting role in Spike Lee's He Got Game, playing the girlfriend of basketball player Jesus Shuttlesworth. Following major roles in Light it Up and Down to You, she took another step up in her career, landing starring roles in big films, The Adventures of Pluto Nash (2002) opposite Eddie Murphy, Shattered Glass (2003) with Hayden Christensen, Alexander (2004) with Colin Farrell, Sin City (2005) with Bruce Willis, and Unstoppable (2010) with Denzel Washington.
In 2009 she won an Image award for her work in the critically-acclaimed Seven Pounds opposite Will Smith.
Rosario's latest credits include Gimme Shelter (2013), The Ever After (2014), the series Daredevil, the animated action adventures Ratchet & Clank (2016) and The Lego Batman Movie (2017), and the thriller Unforgettable (2017) with Katherine Heigl.
Besides acting, Dawson has a deep interest in music and played a role in the film version of the musical Rent (2005), for which she won a Satellite Award for Outstanding Actress in a Supporting Role.
Filmography:
Unforgettable (2017)
The Lego Batman Movie (2017)
City of Sin (2016)
Ratchet & Clank (2016)
Sin City: A Dame to Kill For (2014)
The Ever After (2014)
The Captive (2014)
Gimme Shelter (2013)
Raze (2013)
Trance (2013)
10 Years (2011)
Unstoppable (2010)
Percy Jackson & the Lightning Thief (2010)
Seven Pounds (2008)
Eagle Eye (2008)
Death Proof (2007)
Descent (2007)
Grindhouse (2007)
Clerks II (2006)
Rent (2005)
Sin City (2005)
Alexander (2004)
Welcome to the Jungle (2003)
Shattered Glass (2003)
Pluto Nash (2002)
Men in Black II (2002)
Trigger Happy (2001)
Sidewalks of New York (2001)
Josie and the Pussycats (2001)
Down to You (2000)
Side Streets (1998)
He Got Game (1998)
Kids (1995)
<< back