View Full Site
Rose Byrne Bio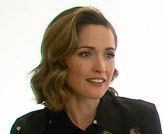 ROSE BYRNE
Date of Birth: July 24, 1979
Born in Sydney, Australia, Rose Byrne entered Bradfield College at the age of 12 because of their excellent drama department. At the same time, from the age of eight, she had been taking various acting courses at the Australian Theatre for Young People. When she was 13, a casting agent visited the ATYP to scout talent for the feature film Dallas Doll (1994), starring Sandra Bernhard. Rose auditioned and was given her first professional role.
Though the movie wasn't a huge success, it got the teen's acting career started. She next landed a regular role in the TV series Echo Point, playing Belinda O'Connor. Appearances on shows such as Wildside and Heartbreak High followed but the young girl had a taste of disappointment when she auditioned for but didn't get accepted to NIDA (National Institute of Dramatic Arts)—the acting school that boasts graduates such as Mel Gibson, Geoffrey Rush and Cate Blanchett. Shattered by the rejection, Byrne instead enrolled for a Bachelor of Arts program at Sydney University. But when she won the role of Alex, Heath Ledger's love interest, in Two Hands (1999), audiences sat up and took notice. The film was a hit both with audiences and critics and Byrne found her career taking off. School was put on the back burner for the time being.
Soon after, Byrne won her first lead in a feature film in The Goddess of 1967 (2000), playing a 17-year-old girl who goes on a car trip with a stranger. Rose was awarded the Volpi Cup for Best Actress at the Venice International Film Festival for her performance. She appeared on stage in the Sydney Theatre Company's production of La Dispute just before making her Hollywood big screen debut as Dormé, Padmé,'s handmaiden in Star Wars: Episode II - Attack of the Clones (2002). Other roles in American films such as City of Ghosts (2002) alongside Matt Dillon and James Caan followed, including The Night We Called it a Day (2003) with Dennis Hopper and Melanie Griffith, and Troy (2004) starring Brad Pitt and Orlando Bloom. For Wicker Park (2004), co-starring Josh Hartnett, she had to learn to speak with an American accent.
Rose was also been in-demand at home in Australian features such as the award-winning The Rage In Placid Lake (2004), for which she received an Australian Film Institute nomination as Best Actress, and Take Away, a story of rival fish and chip store owners who join forces to take on a multi-national burger chain. She adopted a British accent for her role as Rose Mortmain in the critically-acclaimed British film I Capture the Castle (2003), alongside another young up-and-coming actress, Romola Garai and has since played roles in a variety of major motion pictures such as Wicker Park (2004), Marie Antoinette (2006), Knowing (2009) and Get Him to the Greek (2010).
She then went on to star in strong>Bridesmaids (2011), The Internship (2013), I Give It a Year (2013) and Insidious: Chapter 2 (2013). She starred alongside Seth Rogen in the comedy Neighbors (2014) and the sequel, Neighbors 2: Sorority Rising (2016). She also recently played Moira Mactaggert in X-Men Apocalypse (2016.
Rose has a son, Rocco Robin Cannavale, with her boyfriend, actor Bobby Cannavale. Her hobbies include yoga, swimming, bicycle riding, crosswords and reading.
Filmography:
X-Men: Apocalypse (2016)
Neighbors 2: Sorority Rising (2016)
Adult Beginners (2015)
Spy (2015)
Annie (2014)
Annie (2014)
Neighbors (2014)
Insidious: Chapter 2 (2013)
The Internship (2013)
I Give It a Year (2013)
The Place Beyond the Pines (2012)
X-Men: First Class (2011)
Bridesmaids (2011)
Insidious (2010)
Get Him to the Greek (2010)
I Love You Too (2010)
Knowing (2009)
Adam (2009)
The Tender Hook (2008)
Just Buried (2007)
28 Weeks Later(2007)
Sunshine (2007)
The Dead Girl (2006)
Marie Antoinette (2006)
The Tenants (2005)
Wicker Park (2004)
Troy (2004)
Take Away (2003)
The Rage in Placid Lake (2003)
The Night We Called It a Day (2003)
I Capture the Castle (2003)
City of Ghosts (2002)
Star Wars: Episode II – Attack of the Clones(2002)
The Goddess of 1967 (2000)
My Mother Frank (2000)
Two Hands (1999)
Dallas Doll (1994)

<< back