View Full Site
Rufus Sewell Bio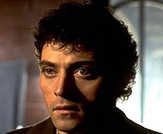 RUFUS SEWELL
Date of Birth: October 29, 1967
Sewell was born in the Twickenham, Middlesex, England. Shortly after his birth, Sewell's father, an Australian animator, left Sewell and his older brother in the care of their mother. At the age of 10, his father died and he fell into a period of depression, turning to rebellion that more than once landed him in jail.
In 1986, he commenced a career in acting primarily as a means of providing himself with, as he later recalled to one interviewer, "sex and free sandwiches."
He attended London's Central School of Speech and Drama and left in June of 1989 after completeing three years of training. He made his London Stage debut in Making It Better for which he won the "Best Newcomer Award". He also originated the role of Septimus Hodge in Tom Stoppard's Arcadia and was nominated for an Olivier Award. On the Broadway stage, he debuted in Translations and received the Broadway Theater World Award.
In 1991, Sewell landed his first film role in the coming-of-age drama Twenty-One, which won him acclaim in Britian. While on set, he subjected himself to additional mortification when he was caught attempting to make off with a prodigious quantity of sausage rolls and chicken wings.
Nevertheless, with hits like Dirty Weekend (1993), A Man of No Importance (1994), and Carrington (1995), Sewell's star was rising as rapidly at the box office as it was on the stage.
The British tabloids had a field day reporting Sewell's womanizing habits. Although many of the reports were false, others like his lengthy relationship with British actress Helen McCrory and brief romance with Kate Winslet were more accurate.
Sewell makes his home in London. He married longtime girlfriend, fashion journalist Yasmin Abdallah, in 1999 but they were divorced a year later. He then married Amy Gardner, with whom he shares a son, but they also divorced.
Sewell has continued to star in feature films, many with historically-based themes and storylines, such as his role as Count Adhemar in A Knight's Tale (2001), Armand in The Legend of Zorro (2005), Crown Prince Leopold in The Illusionist (2006) and a supporting role in Abraham Lincoln: Vampire Hunter (2012).
<< back