View Full Site
Rupert Graves Bio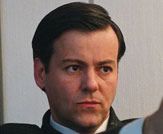 RUPERT GRAVES
Date of Birth: June 30, 1963
Famous for his upper class twit persona, Graves' own background could not be more different from those of the characters he brings to the screen. Graves grew up in the small town of Western-Super-Mare located in western England. By his own account a terrible student who resented authority, Graves left school at 15 and joined the circus.
After his time with the circus ended, Graves made his way to London, where, at 19, he landed his first acting role in a stage production of The Killing of Mr. Toad. His performance caught the attention of a film industry figure, which in turn led to his first film role in A Room With a View. As the irresponsible and irrepressible Freddy Honeychurch, Graves gave a performance that set the pattern for the roles he was to be typcast in for much of the next decade.
Graves was stuck in period drama after period drama until others slowly realized that his range was not limited to films with an abundance of waistcoats and corsets. The '80s saw Graves through a number of memorable films including Maurice (1987) and A Hand Full of Dust (1988) and the miniseries Fortunes of War.
There was little change in the '90s as he continued to work in period films such as The Madness of King George (1995) and Dreaming of Joseph Lees (1999).
As he has gained greater recognition, however, Graves has been able to branch out toward other genres. Some of his more notable roles include the ill-fated son in Damage (1993), and as the severely conflicted Harold Guppy in the deliciously twisted Intimate Relations (1996), for which he won a Best Actor award at the Montreal Film Festival.
In addition to his film work, Graves has continued to work for television and the stage. He and his wife have one child.
Filmography
The Day I Ran Into All My Ex-Boyfriends (2007)
Funny Farm (2006)
V for Vendetta (2005)
Rag Tale (2005)
Extreme Ops (2002)
Room to Rent (2000)
Dreaming of Joseph Lees (1999)
The Revengers' Comedies (1998
The Soldier's Leap (1998)
Bent (1997)
Mrs. Dalloway (1997)
Different for Girls (1996)
The Innocent Sleep (1996)
Intimate Relations (1996)
The Madness of King George (1995)
Fatale (1992)
Where Angels Fear to Tread (1991)
Children, The (1990)
A Handful of Dust (1988)
Maurice (1987)
A Room with a View (1986)
<< back