View Full Site
Sally Hawkins Bio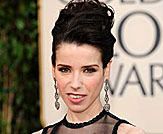 SALLY HAWKINS
Date of Birth: April 27, 1976
Born in London, England to parents who are writers/illustrators, Sally Hawkins inherited her parents' creative side, becoming an actress and writer. After graduating from Royal Academy of Dramatic Arts in London in 1998, she made her first television appearance as a guest on the BBC series Doctors. Her feature film debut soon followed in Mike Leigh's All or Nothing (2002). Over the next year she appeared in several TV movies, then worked with Leigh again, playing Susan in his critically acclaimed Vera Drake (2004), starring Imelda Staunton. Film roles followed in the Golden Globe-winning picture The Painted Veil (2006) and Woody Allen's Cassandra's Dream (2007), opposite Colin Farrell and Ewan McGregor.
In 2009 Hawkins became a Golden Globe winner herself, for her role as Poppy in Happy-Go-Lucky (2008). Since then she has starred in a handful of films including Submarine (2011), Jane Eyre (2011) and Great Expectations (2013). For her work in Woody Allen's Blue Jasmine (2013), she earned an Academy Award nomination, as well as another Golden Globe nomination. More recently, she starred in Godzilla (2014) and Paddington (2014).
Sally's latest film is the drama Maudie (2016) with Ethan Hawke. In the biopic, she plays famed Nova Scotia artist Maud Lewis.
Hawkins has also written for the radio, contributing her writing skills as well as her voice to BBC Radio 4's sketch show, Concrete Cow. In her spare time, she enjoys painting.
Filmography:
Paddington 2 (2018)
Maudie (2016)
Godzilla (2014)
Paddington (2014)
Room on the Broom (2014)
All is Bright (2013)
Blue Jasmine (2013)
Great Expectations (2013)
Jane Eyre (2011)
Submarine (2011)
Never Let Me Go (2010)
Made in Dagenham (2010)
It's a Wonderful Afterlife (2010)
Happy Ever Afters (2009)
Desert Flower (2009)
An Education (2009)
Happy-Go-Lucky (2008)
Cassandra's Dream (2007)
w Delta z (2007)
The Painted Veil (2006)
Layer Cake (2004)
Vera Drake (2004)
All or Nothing (2002)
Post (2002)
<< back