View Full Site
Scarlett Johansson Bio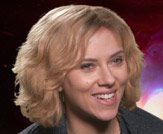 SCARLETT JOHANSSON
(Photo Gallery)
Date of Birth: November 22, 1984
This native to the Big Apple with a twin brother and two older siblings has been studying acting with the best tutors in New York since she was a child. She attended the Lee Strasberg Theatre Institute, a school devoted to furthering "The Method" of Stanislavski, the Russian drama coach who had the greatest influence on performance in twentieth-century theater and film.
At the age of eight, Johansson appeared in Sophistry, an off-Broadway play. She made her film debut as play Laura in Rob Reiner's North (1994), then played Kate, Sean Connery's daughter in Just Cause (1995). In 1996 she received critical acclaim for her work as a young girl who escapes a foster home with her elder sister in the film Manny and Lo (1996).
She appeared in the television pilot The Client for CBS and has been a guest on many talk shows.
In 1998 she had a starring role as a teen who is emotionally traumatized after being thrown from her horse in The Horse Whisperer (1998), directed by Robert Redford, who also starred in the film. Her performance earned her a Hollywood Reporter Young Star award. She has since won Best Supporting Actress at the Toronto Film Festival for her work in Ghost World (2001), Best Actress for Lost in Translation (2003) from the Boston Society of Film Critics, and has been nominated for two Golden Globe awards—one for Lost in Translation and the other for Girl with a Pearl Earring (2003). Some of her films include The Other Boleyn Girl (2010), He's Just Not That Into You (2010), Iron Man 2 (2010) and We Bought a Zoo (2011). She also reprised her role as Black Widow for the blockbuster The Avengers (2012). She starred in Joseph Gordon-Levitt's comedy flick Don Jon(2013). More recently, she starred in Under the Skin (2014), Captain America: The Winter Soldier (2014) and Chef (2014). She also starred in Avengers: Age of Ultron (2015). She can also be seen in Hail, Caesar!(2016) and she provided the voice of Kaa the snake in The Jungle Book (2016). In 2016, she returned to play Black Widow in Captain America: Civil War, and lent her voice to the animated comedy Sing.
Scarlett's latest credits include the highly controversial sci-fi drama Ghost in the Shell (2017) and the female-driven comedy Rough Night with Kate McKinnon and Zoë Kravitz.
In September 2008, she and actor Ryan Reynolds were married, but just over two years later, on December 14, 2010, they announced that the marriage was over. In 2010, Johansson was involved in a scandal when nude photos were leaked from her cell phone. She later revealed that she had taken the photos for her then-husband Ryan Reynolds several years before they were leaked. She then married French journalist Romain Dauriac in 2014, but filed for divorce in March 2017. The former couple has a daughter named Rose.
Filmography:
Isle of Dogs (2018)
Rough Night (2017)
Ghost in the Shell (2017)
Sing (2016)
Captain America: Civil War(2016)
Hail, Caesar! (2016)
The Jungle Book (2016)
Avengers: Age of Ultron (2015)
Captain America: The Winter Soldier (2014)
Chef (2014)
Lucy (2014)
Don Jon (2013)
Under the Skin (2012)
The Avengers (2012)
We Bought a Zoo (2011)
Iron Man 2 (2010)
He's Just Not That Into You (2009)
Vicky Cristina Barcelona (2008)
The Other Boleyn Girl (2008)
The Nanny Diaries (2007)
The Prestige (2006)
Scoop (2006)
The Black Dahlia (2006)
A Good Woman (2006)
Match Point (2006)
The Island (2005)
In Good Company (2005)
A Love Song for Bobby Long (2005)
The SpongeBob SquarePants Movie (2004) (voice)
The Perfect Score (2004)
Girl with a Pearl Earring (2003)
Lost in Translation (2003)
Eight Legged Freaks (2002)
An American Rhapsody (2001)
The Man Who Wasn't There (2001)
Ghost World (2001)
My Brother the Pig (1999)
The Horse Whisperer (1998)
Home Alone 3 (1997)
Manny and Lo (1996)
If Lucy Fell (1996)
Just Cause (1995)
North (1994)
<< back