View Full Site
Scott Adkins Bio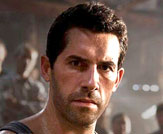 SCOTT ADKINS
Date of Birth: June 17, 1976
Known as one of the leading martial arts and action stars of his generation, Scott Adkins has starred in numerous cult-favorite action franchises, including the Undisputed and Ninja series. He has also appeared in several blockbuster features, such as The Bourne Ultimatum (2007), Zero Dark Thirty (2012), and Doctor Strange (2016).
Scott Adkins was born in Sutton Coldfield, England to a middle-class family of butchers. He attended Bishop Vesey's Grammar School. At 10 years old, he became interested in martial arts when his father took him and his older brother Craig to the local Judo club. This was also around the time that he realized he wanted to become an actor. Young Scott often used to sneak watching movies after his parents went to bed, and one of these movies included Enter the Dragon (1973). He told Interview magazine in 2012, "I just remember Bruce Lee blowing my mind on the screen and I thought to myself, 'That's what I want to do for a living when I'm older.'"
While performing became a major aspiration for Scott, his attraction to martial arts was just as instant. He soon began training daily, even using his father's garage as his own Dojo. He later started practicing Taekwondo at age 14, and kickboxing at age 16, all in an effort to emulate his idols Bruce Lee and Jean-Claude Van Damme. After graduating high school, he enrolled in a drama class at Sutton Coldfield College, although he eventually dropped out without finishing.
Following appearances on a few television series, most notably Doctors, he got his big break when he was spotted by director Wei Tun and Hong Kong movie expert Bey Logan, and offered a role in the martial arts film Dei seung chui keung (2001). This opportunity opened up many others, including guest spots on EastEnders and Mile High, as well as small roles in The Medallion (2003), Unleashed (2005), and Pit Fighter (2005).
In 2006, Scott earned another two massive breakthrough roles — Yuri Boyka in the sequel Undisputed 2 (2006), and Bradley Hume on Holby City. His role as Bradley on the BBC One drama series gave him enough exposure to land a role in the third installment of the Bourne series The Bourne Ultimatum (2007), starring Matt Damon. He followed this project up with the horror thriller Stag Night (2008) and the action thriller The Tournament (2009).
Scott then landed a starring role in the martial arts crime drama Ninja (2009) alongside Japanese stars Tsuyoshi Ihara and Mika Hijii. After that, in 2010, he reprised his role as Yuri Boyka in the highly anticipated follow-up Undisputed 3: Redemption.
The actor enjoyed great success over the next couple of years. In 2011, he starred alongside his idol Jean-Claude Van Damme in the action thriller Assassination Games. He then landed roles in big movies such as The Expendables 2 (2012), Universal Soldier: Day of Reckoning (2012), again opposite Van Damme, as well as the Oscar-winning war drama Zero Dark Thirty (2012).
Scott has continued working steadily in recent years, starring in a slew of films, including the sequel Ninja: Shadow of a Tear (2013), the fantasy adventure The Legend of Hercules (2014), and the action crime thriller Close Range (2015).
In 2016, Scott landed one of his most high-profile roles to date as Lucian in the Marvel superhero feature Doctor Strange starring Benedict Cumberbatch, Tilda Swinton, and Chiwetel Ejiofor. That same year, he reprised his role as Yuri Boyka in the long-awaited fourth installment of the fighting franchise, Boyka: Undisputed, and also appeared in the war drama Jarhead 3: The Siege, the comedy The Brothers Grimsby, the action sequel Hard Target 2, and the action thriller Eliminators.
In an interview with Screen Crush in 2012, Scott discussed the changing landscape of the prototypical "action hero," compared to those of the '70s, '80s, and early '90s. "I think what changed was The Matrix (1999) came along and all of a sudden Keanu Reeves knew kung fu. And then Matt Damon was kicking people's asses as Jason Bourne," he said. "All of a sudden it became easier to get real Hollywood stars to do these fight sequences, so it kind of made people like me a bit redundant. So now you've got to be an actor first and an action guy second." However, he did acknowledge that there are still many people who love seeing a real-life martial artist on screen, including himself. "You can't fake it, really," he explained. "When you see someone doing it and that is what they are and they're honestly expressing themselves, as Bruce Lee did, there's something very powerful about that. I still seek it out."
Scott is married to Lisa Adkins, with whom he has a daughter named Carmel.
Filmography:
American Assassin (2017)
Altar Rock (2017)
Savage Dog (2017)
Eliminators (2016)
Doctor Strange (2016)
Boyka: Undisputed (2016)
Hard Target 2 (2016)
Criminal (2016)
The Brothers Grimsby (2016)
Jarhead 3: The Siege (2016)
Re-Kill (2015)
Close Range (2015)
Wolf Warrior (2015)
2 Guns: Zero Tolerance (2015)
The Legend of Hercules (2014)
Green Street 3: Never Back Down (2013)
Ninja: Shadow of a Tear (2013)
Legendary (2013)
Zero Dark Thirty (2012)
Universal Soldier: Day of Reckoning (2012)
The Expendables 2 (2012)
El Gringo (2012)
Assassination Games (2011)
Undisputed 3: Redemption (2010)
Ninja (2009)
The Tournament (2009)
X-Men Origins: Wolverine (2009)
Stag Night (2008)
The Bourne Ultimatum (2007)
Undisputed 2: Last Man Standing (2006)
The Pink Panther (2006)
Pit Fighter (2005)
Unleashed (2005)
The Medallion (2003)
Black Mask 2: City of Masks (2002)
Dei seung chui keung (2001)
The Accidental Spy (2001)
<< back