View Full Site
Scott Eastwood Bio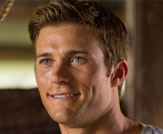 SCOTT EASTWOOD
Date of Birth: March 21, 1986
Scott Eastwood was born Scott Clinton Reeves in Monterey, California. His mother, Jaclyn Reeves, is a flight attendant and his father is actor/director Clint Eastwood. Growing up, he divided his time between California and Hawaii, spending time with both of his parents. Scott also has a younger sister, Kathryn Reeves and five half-siblings who share the same father: Kimber Tunis, Kyle Eastwood, Alison Eastwood, Francesca Fisher-Eastwood and Morgan Eastwood. Scott credits his large family as the guiding force for shaping him into who he has become.
As a child, Scott was very active. He enjoyed the outdoors, playing Pop Warner Football – a non-profit youth football organization – and various other activities, such as surfing.
Scott graduated from high school in 2003 and enrolled at Santa Monica City College. He later earned a degree in communications in 2008 from Los Angeles' Loyola Marymount University.
While pursuing an acting career, Scott worked at everything from parking cars to construction. He made his film debut in 2006 with Flags of Our Fathers, a war film directed by his father. Scott was named Scott Reeves in the credits of that film and wasn't billed as Scott Eastwood until 2009. He appeared in his father's film Gran Torino, as well as Invictus, Texas Chainsaw 3D and Fury, alongside Brad Pitt and Shia LaBeouf.
In 2014, Scott was cast as leading man Luke Collins in the film adaptation of Nicholas Sparks' novel The Longest Ride, followed by an appearance in the biopic Snowden (2015). Most recently, he landed roles in DC's Suicide Squad (2016), the action thriller Overdrive (2016), the crime drama Live by Night (2017), the comedy Walk of Fame (2017), and the action flick The Fate of the Furious (2017) with Dwayne Johnson and Vin Diesel.
In Vanity Fair's March 2013 edition, Scott was credited as one of Hollywood's Rising Stars. He is also a supporter of the late Paul Walker's charity, Reach Out WorldWide.
Filmography:
The Fate of the Furious (2017)
Walk of Fame (2017)
Live by Night (2017)
Overdrive (2016)
Suicide Squad (2016)
Snowden (2016)
The Longest Ride (2015)
Dawn Patrol (2014)
Fury (2014)
Texas Chainsaw 3D (2013)
Trouble with the Curve (2012)
The Forger (2012)
Enter Nowhere (2012)
Invictus (2009)
Shannon's Rainbow (2009)
Gran Torino (2008)
Player 5150 (2008)
Pride (2007)
An American Crime (2007)
Flags of Our Fathers (2006)
<< back